The first time I met Father John Bruder he towered over a public gathering. It was a celebration of some kind in St. Johnsbury. Bruder is tall (6'3"), but his towering was more than that. He was laughing and talking, sliding easily through the crowd and radiating a peaceful pleasantness. It might have been joy.
When Bruder came to my office just before Christmas, he stomped his snow-covered boots on the floor, smiled and offered one of his personal Christmas letters. We embraced and spoke briefly, and Father John left but not before agreeing to an interview for the North Star. I considered it an honor, and I'd like to say that the joy was mine.
On the morning we planned to meet, my phone rang, "It's Father John," he said. "Have you got 4-wheel drive."
"Yup," I answered.
"I think you can make it to the house." The voice was gone.
Bruder lives in the woods on a hill over Danville. From the side of the dirt road it's a quarter mile to his cabin in a clearing surrounded by spruce and fir. I pushed up through the snow an skidded to a stop by his wood- pile. Birds flew away from a simple feeder on the porch, and the front door creaked open. There he was again - older than I remembered, but his eyes were bright, and his smile made me laugh. I was glad to be there.
Bruder was born in Michigan's Upper Peninsula in 1924. He was one of four children. His father was a traveling salesman.
After graduating from the Catholic High School in Ironwood, MI Bruder joined the Army Air Corps. World War II was on in Europe. He was trained as a navigator and assigned to a B-24 crew, flying bombing missions over northern Italy, Germany and Austria. As Eisenhower and American troops pushed against the Germans in the Battle of the Bulge,
Bruder and others were shaking the other side of the continent from the air. Over the period of four months Burder and his squadron flew 50 missions pounding the ground in strategic bombing runs unloading 100-and 500-pound bombs over railroad yards, factories, fuel depots and airfields. His last mission was on April 19, 1945, and he headed for home. It was Patriot's Day in Massachusetts.
Bruder's mother was a widow living in California. He followed her there and enrolled
in the engineering program at UCLA. At the time his brother was studying to be a Jesuit priest at Loyola University. Bruder remembers his brother dropping out of Loyola for, health reasons and coming to visit the Army veteran who nearly finished with his degree in engineering. "He said, 'Give me one good reason you shouldn't be a priest, ' and I started to think about it." Bruder was 24.
"The more I thought the more I realized I didn't want to be an engineer or a teacher. My brother had caught my attention. It wasn't a calling I wanted to answer. I just wanted to do what a priest does." Bruder decided to join a Paulist order in Oak Ridge, NJ.
"My mother took me to the train, and as she said goodbye she said, 'If it doesn't work out, John, you can always come back.'" He hadn't been at the Oak Ridge monastery long when he overheard another student say, "The tall skinny one won't last a year."
Bruder's face lights up as he tells the story. "He was right, but for the wrong reasons." Bruder had found an autobiography of St. Theresa of Lisieux, a Carmelite nun who cared for soldiers during World War II and described her experience as a love affair with God. Eight months later Bruder was gone. "I Wanted to be alone and find a deeper love of God. I wanted to be cloistered."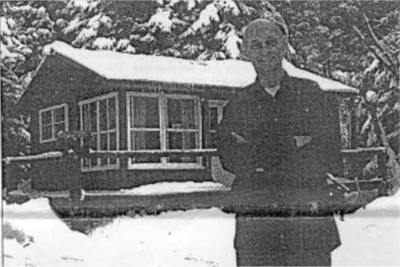 Father John Bruder is a Trappist monk. He lives alone in a one-room cabin in the woods in Danville. He's a towering man but his great presence is more than his height.
On his master's urging, Bruder waited six months, but in 1949 he entered a Trappist monastery in Pecos, NM.
Trappist monasteries are the most austere in the Roman Catholic Church. Trappist monks live, eat and pray "without interference from the outside world." As Bruder says, "It's ora and labora (prayer and labor) with the freedom to love God and grow in one's holiness - for their own souls and the souls of others." Because of their farming these monks are nearly self-sufficient.
Trappists are one of the orders that seek to offer prayers around the clock. He laughs, "We had the night shift." His daily routine began at. 2:00 a.m. and ended after vespers, supper and evening reading at 7:00 p.m. In 1955 the monastery in New Mexico was packed up and moved to Lafayette near Portland, OR, and chores for the Monks grew beyond farming and prayer to furniture making. "Part of our self sufficiency became wood working and competition in the business of business."
In 1956 he was ordained a Trappist priest and acknowledged as an effective leader. He was appointed to be a novice master. But as he says, "Like any other relationship mine began to change. I just wanted to be alone with God." He read about the orders of hermits where one
could be alone, and he sought permission from the abbot, the leader of the trapist monastery, to leave.
Permission was granted, and in 1963 Bruder entered the Camoldolese hermitage in southern Ohio. There he began "the most fabulous years of my life. There were three priests – six men and God. I found what I had been doing was eating meat and potatoes. All of a sudden I tasted dessert. It was a wonderful blessing. I found myself seeking people out to say, 'Have you heard the good news?' I wanted to tell everyone."
He laughs easily at himself. I'm sure people thought I'd lost my marbles, but I just wanted to share it all. 1 wanted to tell about my experience with God without I the responsibility of a parish, a building, expenses or any of that." He reverted to the Trappist order but arranged for a temporary (later an indefinite) leave to be on his own.
With a 99-dollar 90-day Greyhound bus ticket Bruder set out going coast-to-coast in search of a place to establish a hermitage and meet people who came to his door.
In the fall of 1996 he stepped off the bus in St. Johnsbury and accepted a ride to Danville. He was welcomed and, in March 1967, moved to this land owned by the Balivets. With materials from an old barn in Cabot and his won hands, Bruder built this one-room cabin.
For many years he accepted invitations to speak or teach, filling in at times for Protestant ministers and Catholic parishes. He traveled throughout New I England leading services and retreats and acting, he says, as "the monk on the move." But in the late 1980's Bruder stopped traveling -"just pooped."
Much of his time these days he spends in prayer at a home-made altar in the cabin or with people who are sick.
Looking behind me down the snow-covered driveway, he Says, "I go out every couple of days – get into St. Johnsbury every two to three weeks." His snowshoes are leaning against the wall. Father John admits his health is, not the best any longer, but his 1ife is full with correspondence, a book he's writing and a "love affair and sharing the graces of God."
Before 1 leave, he embraces me and says, "I enjoyed this." We smile together, and 1 return the compliment hoping he understands just how much pleasure I've had. He hands me a bundle of envelopes to take to the post office, and the door is closed. Snow is fallmg harder now, but the woods seem brighter. As I coast away from the clearing, I can see birds dropping down from the trees again. Father John is watching them on the simple feeder on his porch.