«
«
«




«
«
«
«
«




«
«
«
«
«




«
«
«
«
«
«
«
«
«
«
«
«
«
«
«
«
«
«
«




«
«




«
«

---
Robert Alexander Crew
721st Squadron
---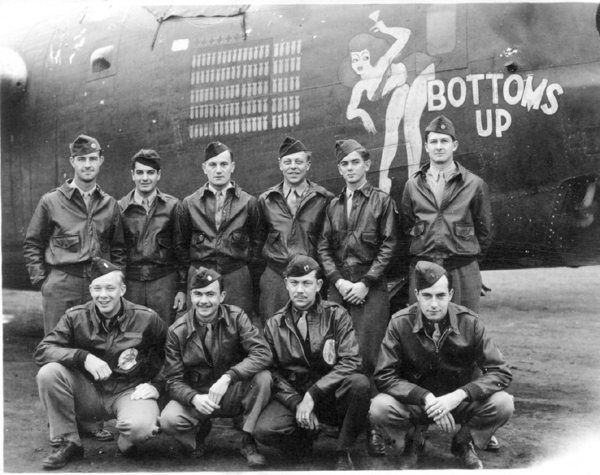 Standing, left to right: Walter Lucia - Tail gunner; Joe Ferrante - Nose gunner; Al Romer - Engineer; Paul Fromm - Armor gunner; Charles Bartlett - Ball turret gunner; George Jackson - Radio man.

Kneeling, left to right: Kenneth Dale Fullmer - Co-Pilot; Robert (Bob) Alexander - Pilot; William (Bill) Leavitt - Bombardier; Paul Suey - Navigator.

Recollections of a co-pilot:: "This crew was assembled at Hunter Field in Savannah, GA in the spring of 1944 for the purpose of serving as a lead crew in Italy. The officers (except for me) were some of the most experienced airmen available in the States - all having served as instructors in their various fields prior to this assignment. On the other hand, I was a new Flight Officer fresh out of multi-engine school. I felt a bit out of place with this group.

We flew a new B-24 to Italy by way of South America and landed in Manduria in May of 1944. Our introduction to the war came soon after, as did our role of flying in the lead position. Quite a few of these missions were flown in the plane shown above, the Bottoms Up. Later that year our pilot, Major Alexander, was promoted and moved to another command. I was designated a pilot and assigned my own crew. As I recall, the rest of the original group were split up and transferred individually into other crews."

More on the Bottoms Up: "After completing my missions I chose to stay in Manduria for several extra months. One of my assignments involved test flying repaired and overhauled B-24's. I clearly recall flying and checking out the Bottoms Up one day after some work had been performed on her. The next day she went out on a mission, flew into a cloud bank and never came out. We never knew what happened - she just disappeared - it was the craziest thing." - Ken (Dale) Fullmer

Note: Some eleven months after arriving, several promotions, 35 missions and one DFC later, Capt Fullmer returned to the States and was released from active duty shortly thereafter.


Photo and recollections provided by K. D. Fullmer - Submitted by Don Barnes.