«
«
«




«
«
«
«
«




«
«
«
«
«




«
«
«
«
«
«
«
«
«
«
«
«
«
«
«
«
«
«
«




«
«




«
«

---
2nd Lt. John N. Fredd Crews
42-78284
720th Squadron
---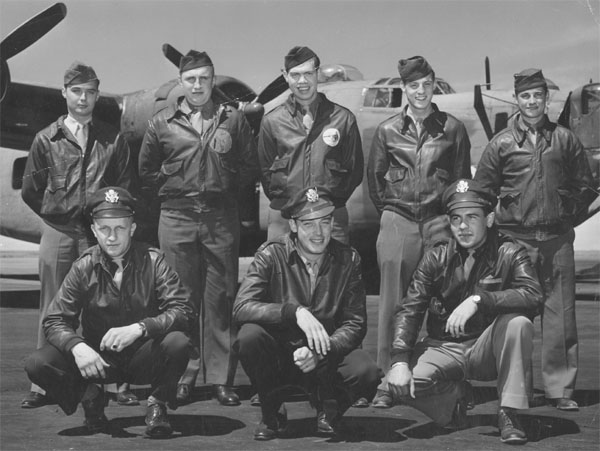 Rear L. to R.
Sgt. Carl B. Webber
Cpl. Delmar E. Possinger
PFC. Raymond L. Sorenson
PFC. Seth P. Staples
Cpl. Charles A. Pettry

Front L. to R.
Lt. Sidney E. Carlson
Lt. Eugene R. Howell
Lt. Ronald H. Fillnow

Missing from this picture because of the Mumps were:
Stanley J. Correll and the crew's regular Navigator.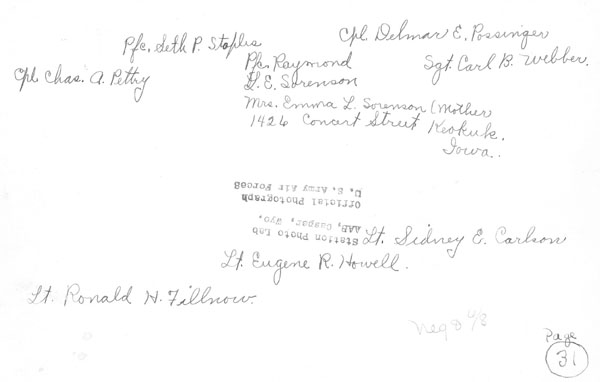 The crew were hit by Flak, which started a catostrophic fire in engine #3, over Germany on 19th July 1944.
Other crews reported seeing 4 - 6 chutes open as they abonded the aircraft.


| | | |
| --- | --- | --- |
| Carlson, Sidney E | Bombardier | POW |
| Correll, Stanley J. | Gunner | POW |
| Fredd, John N | Pilot | KIA |
| Howell, Eugene R | Co-Pilot | KIA |
| Pettry, Charles H | Radio | POW |
| Possinger, Delmar E | Engineer | KIA |
| Posson, John L | Radar | KIA |
| Sorenson, Raymond L E | Gunner | POW |
| Staples, Seth P | Gunner | POW |
| Webber, Carl B | Gunner | POW |
| Weidman, Lloyd E | Navigator | KIA |


Link To MACR # 7096

Information provided by Mark Correll, son of Stanley J. Correll, 720th Squadron