«
«
«




«
«
«
«
«
«




«
«
«
«
«




«
«
«
«
«
«
«
«
«
«
«
«
«
«
«
«
«
«
«




«
«




«
«

Click To Play Music

"We Remember"
by Dwayne O'Brien
---
2013 REUNION NEWS
450th Bomb Group Memorial Association
---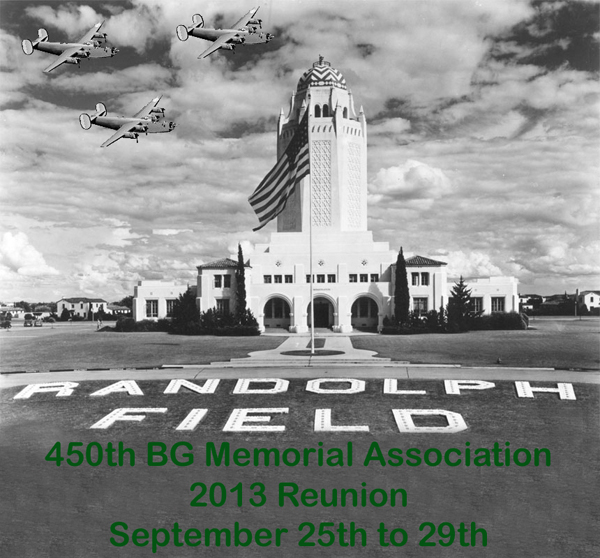 The 450th Bomb Group Memorial Association are proud to announce that arrangements have been finalized for the 2013 Reunion in San Antonio Texas.

Download the information and registration package by clicking HERE

For those of you flying into San Antonio International Airport, there is a free shuttle to the hotel.
Simply call the hotel from the courtesy phone in the baggage claim area and they will send the shuttle for you.
The shuttle is also available to return you to the airport on check out day.


2013 SAN ANTONIO ITINERY

WEDNESDAY, September 25th
Registration and Hospitality Room open at 3:00pm

THURSDAY, September 26th
Tour of the Alamo, Lunch at El Mercado, Guided Tour of San Antonio

Buses board at 9:45am, Return to the hotel at 3pm.

Our tour begins in the morning at the Alamo, the most famous spot in Texas. See the first mission in Texas that was later a fort.

Enjoy Lunch and Shopping on your own at El Mercado, a traditional Mexican market place.

Tour San Antonio on a guided bus tour. (Little or no walking involved)

Thursday evening, relax and spend time doing what you want to do.

FRIDAY, September 27th
Tour of Randolph Air Base, Box Lunch Picnic Included

Buses board at 9:45am, Return to hotel at 3:00pm

450th Memorial Service with honor guard provided by Randolph Air Base at a base chapel. Presentation of the memorial wreath.

Picnic Box Lunch included in tour for lunch.

Guided bus tour of the Base highlighting the historic sites.

FRIDAY EVENING, September 27th
Dinner at Rio Cibolo Ranch

Buses board at 5pm, Return to hotel at 10pm

Enjoy lively country sounds while viewing Cibola Falls and Gardens. The Longhorn Saloon provides a cash bar with their famous Rio Ritas.

Dinner will feature western style food (picnic or vegetarian) and sides.

Guest will enjoy moonlit hay wagon rides, a cowboy comedian and watch the feeding of the resident Texas Longhorns.

Finally gather around open fire pits for desserts.

SATURDAY, September 28th
Spend the day relaxing or site seeing on your own. Enjoy the local flare and ambiance of the famous San Antonio Riverwalk.
Step outside the hotel and you will be embraced by many activities, eateries, a brewery, river cruises and more.

Visit sanantonio.com for more information and activities.

SATURDAY EVENING, September 28th
Reunion Banquet. Come prepared for an evening of fine food, great entertainment and dancing.
---

If any information is being used out of context or if you would like to use some of this information, please contact the Webmaster

Terms of Use and Disclaimer Statement

Copyright © 2000 - 2013, Mark Worthington & the 450th Bomb Group Memorial Association