«
«
«




«
«
«
«
«




«
«
«
«
«




«
«
«
«
«
«
«
«
«
«
«
«
«
«
«
«
«
«
«




«
«




«
«

---
Cpt. Julian D. Fleming
721st Squadron

---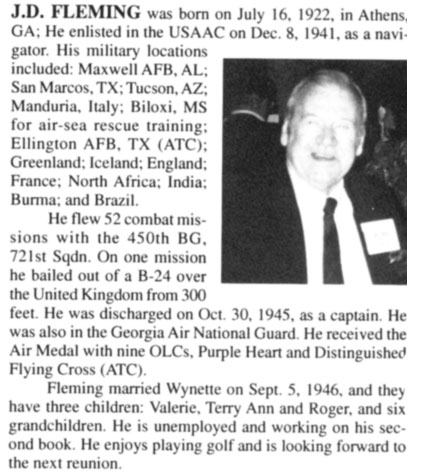 Information courtesy of 450th Bomb Group (H) The "Cottontails" of WWII and Turner Publishing Company


AWOL

     Since there has been so much in the papers and on TV recently about the soldier who deserted his post in Afganistan during a war and what, if anything, should be done about it, I have decided to mention an incident during World War II that I have never before discussed with anyone.

     I was the navigator on a B-24 heavy bomber, which carries a crew of 10 men. Our tail gunner, Glenn Painter, was such an excellent gunner that he shot down 3 German fighter planes on our first 5 missions. The other men on the crew were happy and proud and knew we would be well protected from any fighter that tried to sneak up behind us during our remaining 45 missions.

    Our happiness was short-lived since the Air Force in its vast intelligence decided to take Glenn away from us and return him to the States as an instructor. Good for Glenn but bad for us! Then instead of assigning us a new tail gunner, the powers that be decided to give us an unnamed different gunner for each mission. We would never know who it was going to be or whether he would be capable or not.

     During this period of "now you have a tail gunner, now you haven't" we were assigned a very long and very dangerous mission and guess what? We piled into the plane and started engines. The tail gunner assigned to us for that mission never showed up! I jumped out of the plane and ran over to the barracks where the gunners lived and found several who were not scheduled to fly that day. They were extremely                                                                                                         glad not to be going to that particular target. But we still had to have a tail gunner.

     I had no authority at all to order anyone to fly with us, and of course those who had the day off all knew that. So I began to try to persuade them as best I could. Finally (it must have been minutes but seemed like hours) I was able to persuade one gunner "Louie" to come with me.

    It was a long mission, over 10 hours, and when we reached the target it was completely socked in, so foggy that even the enemy fighters could not get off the ground. The flak guns were silent, not wanting us to bomb through the clouds in trying to locate the target, so all we could do was turn around and head for home. The bombs were all dropped into the Adriatic Sea, since it was too dangerous to try to land with a full bomb load. And nobody got credit for flying a mission!

     Louie, I'm sorry. You risked your life for nothing. The AWOL gunner assigned to us was never reported nor prosecuted. (He could have faced a firing squad). But I had to tell the story and apologize again to Louie.
Link To Additional Information
Link To Crew Picture