FRANKLIN H. FANGER – from the Southern Oregon Warbirds Website
BRIEF BIO
Frank Fanger was born on August 4, 1922, in Wolsey, South Dakota, and on February 10, 1943, he was drafted, in Medford, Oregon. He ended up a B-24 radio operator and right waist gunner in the Army Air Corps. He went through basic training at Sheppard Field, Texas, Radio School in Sioux Falls, South Dakota, and Phase Training at Gowan Field in Boise, Idaho. His major theater of wartime operations was with the 721st Bomb Squadron, 450th Bomb Group, 47th Bomb Wing, 15th Air Force in Italy, over the period April through September, 1944. He flew a total of 50 combat missions and was awarded the Silver Star and several Air Medals. He was discharged at McClelland Field, Sacramento, California, in September 1945, with the rank of T/Sgt. He and Ruth were married in Corvallis, Oregon, on June 8, 1947. They have three children, Stephan, Christine and Kathryn.
HIS STORY:
My remembrance of the train ride from Medford to Portland for induction into the army is still vivid. It took the train all night to make the trip. I believe we stopped at every farm along the way to pick up full cans of milk and set off empty cans. After we had our physicals and were sworn in, we were shipped to Fort Lewis for testing. The testing was a breeze as I had had my college education interrupted by Uncle Sam. Next came another train ride of several days durations. I had been drafted into the Army Air Force! I couldn't believe my luck. As we went over the Colorado Rockies on our way to Sheppard Field, Texas, they put on more engines. About this time one of the men had terrible headaches. He subsequently had an early discharge.
I remember two things about Sheppard, one was trying to scale the walls in the obstacle course and the other was the fact that a lot of Oklahoma real estate moved to Texas on a given day then was re-deposited somewhere in Oklahoma the next day. We had barracks inspections every Saturday. We never knew exactly when they were going to come. One Saturday it had rained and we were having trouble keeping the floors clean, even up on the second floor. About the middle of the afternoon someone spotted the C.O. coming for inspection. The floor was still a mess. Two men grabbed brooms and started sweeping toward the trash can. I lifted the can and they swept the dirt under it. When the C.O. entered the barracks that G.I. can was slowly wobbling to a stop on top of that pile of dirt. Luckily the M/Sgt was between the C.O. and the can as they walked by. The C.O. probably wondered why we were all trying to keep a straight face.
From Sheppard it was on to gunnery school near Laredo, Texas. I can still remember how sore my shoulder got from that 12 gauge shot gun while trap shooting from the bed of a moving GI truck. The other vivid experience while at Laredo occurred while firing a 30 caliber machine gun at a sock being towed by another plane. We stood up to fire our rounds. We had a safety belt with a chain attached to the floor of the ship. I found out that the safety chain was really longer than it needed to be. One day, after finishing my rounds, and before I could even stow my gun, the Pilot decided to improve my gunnery experience by slowly rolling the ship. That's when I discovered that the chain was too long. My shins were banging on the top of the cockpit. The he had the gall to asked me if I enjoyed my ride!
From Laredo, it was on to Sioux Falls, South Dakota…not many miles from my birthplace. By the way, I was born in a little farm house. I was in such a hurry to begin life that I had had my breakfast before the doctor got there. He still charged Dad $25.00 for his services. I never heard the last of that.
It was now summertime, and we were on the graveyard shift at radio school. We were supposed to sleep from 11 am to 7 pm. If you don't know, this is the hottest part of the day, and in tar paper barracks it was pure misery. They made us stand up in class, but even then we sometimes fell asleep.
One Sunday, after church, a lady invited me to Sunday dinner. (This was part of my reason for going to church!) While waiting for dinner, I noticed a photo of a woman who had been my English teacher when I attended Huron High School. I learned she was my host's daughter! What a coincidence!
After Sioux Falls it was vacation time. It seems like I had a whole month to get from Sioux Falls to Salt Lake City Air Base. Upon arriving at the air base, we were left to stand for several hours on the windswept parade ground until everyone arrived. My overcoat was in my duffel bag, which was already in Boise. I hit sick bay over that deal.
From Salt Lake, I was sent to Boise and joined by crew for our phase training. We flew a lot over Eastern Oregon for our air to ground gunnery. While hunting in that area last Fall, I found a 50 caliber belt link. One day while doing the air to ground thing, I was ordered from my radio post to the rear of the ship to do my target practice. When I got back there, the floor was covered with puke and smelled to high heaven. I fired my rounds on the next pass and headed for my radio room. I had just sat down on my stool when it hit me. I barely got my head through the door into the bomb bay when my breakfast decided to have.
One day we flew to Blythe, California, and saw Boulder Dam on the way. I think this was a two day trip. From Boise we went to Kansas to pick up our ship. We had our crew picture taken in front of the plane oat that time. That's me in the back row, third from the right.
We flew to Miami, Florida, where we stayed a couple of days. When we got up in the morning, our clothes were like damp dishrags. I've never been able to figure out why anyone would like to vacation there, much less live there!    
From Miami we headed for Brazil. For some reason I can't remember our first stop, but it much have been in the Dominican Republic. Our next stop was in Trinidad. From there we flew to Belem, Brazil, and then to Fortaleza, Brazil. While there, we all bought cowboy boots. Sure must have been a boost to their economy, although they were quite cheap by our standard, as I recall. We were in Fortaleza for several days, not knowing when we could leave. WE were there on April 20, as I wrote a letter from there on that date.
From Fortaleza, we flew to Dakar (Senegal) Africa. This was an experience I will never forget. We had been up since 6 am when we were notified after evening chow that we would be leaving at midnight. Shortly after take off we were flying through a tropical storm. The blue flames bouncing along our wings were quite disturbing.
The flight across took us eleven hours. The navigator and I had to stay awake the entire time. The Pilot and Co-Pilot took turns. Every half hour Lt. Gage would give me our position and I would send it to the base in Brazil. After we got halfway across, I changed stations to Dakar. To make matters worse, many operators didn't monitor the frequency before starting their messages. I was completely exhausted upon arriving in Dakar. We missed lunch because the mess hall was closed before we got there. The crew tried to wake me for supper but couldn't. I slept clear through to the next morning.
From Dakar we flew to Marrakech, then to Algiers. (4-25-44) We went into town and took in a movie. Balky (our ball gunner) tipped the usherette 1 lire, which is less than a penny. She was furious!
From Algiers we went to Tunisia. There we slept in sideless tents on canvas cots with one blanket – coldest night I have ever spent! The next night we went to the plane and got our fleece lined flight suits. From Tunisia we flew to an Italian air base at Manduria, Italy. Here we were assigned to the 721st Bomb Squadron, 450th Bomb Group, 47th Bomb Wing, 15th Air Force, and to a real barracks with hot showers and all! Although I did not know him, at this same time Bill Correll, another Southern Oregon Warbird, was flying turret gunner in the same Bomb Wing, in the 449th Bomb Group out of nearby Grottaglie, Italy.
May 5 – We finally flew our first complete mission on this day. "Dutch", our tail gunner, got an ME-109 today. This was also my first Ploesti mission.
On May 24, we went to Wiener Neustadt, Austria. Our group of 28 ships was jumped by over 100 fighters coming at us out of the sun. We were in the last position in the formation when they hit. Fifteen minutes later we were flying in #2 position when our escort of P-38's finally arrived. That evening Axis Sally asked us how we enjoyed the reception.
On June 13, we headed for Munich to bomb an ME-109 aircraft factory. Enroute our #2 engine gave up the ghost and the prop had to be feathered. Captain Price ordered the bombardier, Lt Bozzo to salvo the bombs. He promptly hit the salvo switch, but forgot to first open the bomb bay doors. The bombs crashed trough the doors and left them flapping in the slip stream. There was not alternative than but to drop out of formation and return to our base. Captain Price ordered me to man my radio and to make contact with our base. I was in the waist  section of the plane, so this required a walk through that open bomb bay without a chute.
Another memorable mission was my 21st, on June 16th. We went to the oil refineries in Bratoslov, Czechoslovakia. Forty to fifty fighters attacked us. We were leading the formation that day. Our tail gunner, Ray Steensgard, was firing furiously at a ME-109 that almost crashed into us. At the last moment he veered to the right and was a sitting duck for me at the right waist position. I can still see him slumped in the cockpit, to this day. Captain Price and Sgt. Ames were wounded in this attack.
A piece of hot metal took out Cpt. Price's intercom and lodged in his left buttock. Lt Hartman, the co-pilot, was looking the other way and was unaware of Cpt. Price's problem until he noticed a problem with control of the ship. By the time he took over the controls we had other problems. Sgt. Ames, in the top turret, was wounded by enemy machine gun fire. The plexi-glass turret bubble was destroyed. Also, probably from the same enemy fighter, some hydraulic and electric lines were severed.
With the co-pilot in command, with a wounded turret gunner and with a number of aircraft systems inoperative, we nevertheless were able to continue leading the formation on over the target and then back to our home base. Our entire crew was awarded the Silver Star as a result of this mission.
ON July 10th the Chaplain told me that my brother Archie had been killed inaction. He wa with the armored infantry on the Anzio beachhead.
On August 4th, my birthday, our entire crew got promotions. I was now a T/Sgt, and had 43 missions in. We were now back flying as a crew again, with Captain Price.
One mission to Wiener Neustadt we had another close call. On the bombing run, with the bomb bay doors open, we suddenly smelled gasoline. The engineer opened the door to the bomb bay and was drenched with gasoline. A shell had come up through the catwalk, almost dead center, and exited through the wing, puncturing a huge hole in the fuel tank. Obviously it was a dud, or set to go off at a higher altitude, or we'd be dead.
After the bomb run we stayed with the formation for a while. Captain Price asked us if we wonted to bail out or try to get back. Everyone wanted a chance to get back to Italy. He ordered us to throw out everything we could, ammo, guns, my radio set, etc… Needless to say no one did any smoking on the way home.
Finally we were able to land, at Naples. By the time we were on the runway all of our engines had quit. Fire trucks and ambulances greeted us and a tug came out and towed us in. We spent several days there waiting to get our ship repaired. We were able to go into Rome one day, to see the sights.
All through the latter part of July, when not flying bombing missions, we were practicing flying formation missions at night. This was a really scary set-up, with many planes crashing into one another. This was in preparation for the invasion of Southern France. After repeated raids on submarine pens and gun emplacement, the big day finally arrived. We took off at 2:30AM to be there ahead of the invasion forces. What a spectacle! We really had a good view of the invasion. This was my 49th mission.
On August 20, we flew to Budapest and bombed the marshalling yards. My last mission!
I came home from Italy to the good old USA, on the SS Athos, arriving on September 27th. Some memories of that voyage: We were in a bad storm – so bad that waves were washing over the ship. Most of the Air Force personnel weathered it pretty well, but the poor ground troops were very sick. While on "guard duty" at the ship's mess hall, I observed the crew checking on some strings hanging down the side of a big kettle on the stove. They were tied to turkey heads! Another time, in the dimly lit corridor outside the galley, a cook came out and offered me something that appeared to be a piece of cake. Imagine my surprise when I bit into Limburger cheese!
After arriving in New York, it was a long train ride to the West Coast and a well earned vacation. As I think back on it, I was out of the States for only 5 months and eleven days.
My next duty assignment was at Chanute Field, Illinois, where I became a foundry man, making officers' desk name plates out of our airplane props. I was there that I, along with 20 other officers and enlisted men, received my medals. Only two of us received the Silver Star. There I am in the adjacent picture, on the far end of the line, fourth one down.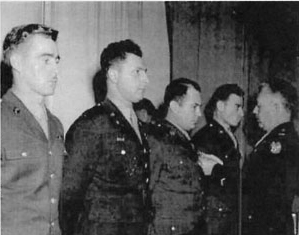 In the spring of 1945 I was transferred to McClelland AFB near Sacramento. While there, on weekend, I worked as a truck driver and a t a cold storage facility in the peach harvest. Our barracks were right across the street from a row of engine test stands and engines roared 24 hours a day. It took a couple of weeks to get used to the racket.
After my discharge I returned to Medford and to Oregon State College, where I had left off two years earlier. A lot had been packed into those two years. I changed from Mechanical to Industrial Engineering, with building construction as a major. After graduating I alternated careers between an Industrial Arts teacher and a building contractor.