«
«
«




«
«
«
«
«




«
«
«
«
«




«
«
«
«
«
«
«
«
«
«
«
«
«
«
«
«
«
«
«




«
«




«
«

---
2nd Lt. Philip Kraus
722nd Squadron
---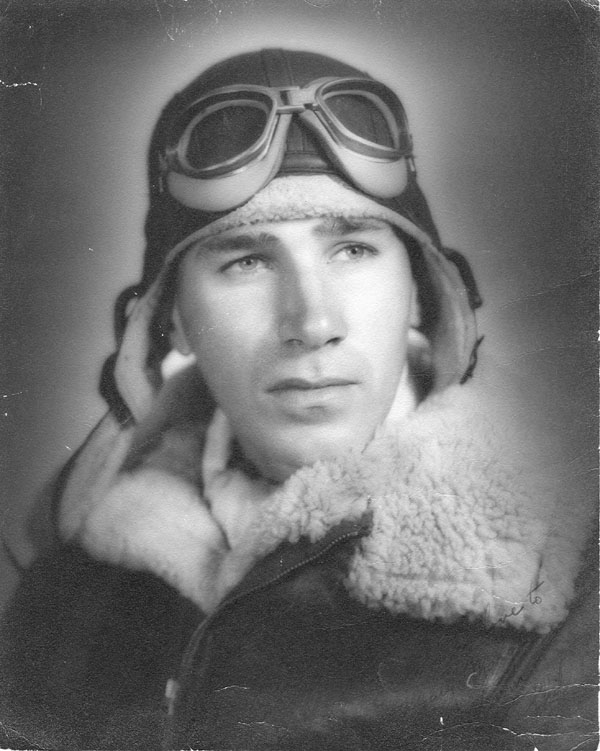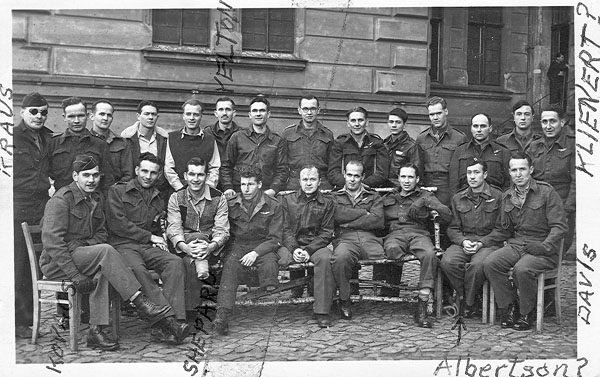 POW's in the Munich Hospital


2nd Lieutenant Philip Kraus -My Father


My father is Philip Kraus. He was born in Mountainside Hospital, Glen Ridge, New Jersey on September 7, 1915.

Both of his parents had immigrated from Austria-Hungary several years earlier. His father was Wasyl Krawcyszyn (William Kraus), and his mother was Annastasia (Tessie) Huber.

He became interested in airplanes about the age of 9 while living on the Vare Estate (his father was the gardener for Sen. Vare) in Ambler, Pennsylvania.

He saw a Curtiss Jenny land in a field and load passengers for a short trip.He was impressed with the beauty of the plane and the pilot who was wearing leather gauntlet gloves. ( Daddy thinks he was Tex Rankin, a famous stunt pilot).

He really got involved with aviation at Pitcairn Field (owned by Harold Pitcairn- one of the inventors of the modem day helicopter). When he was 14 he rode his bicycle to the field as often as possible.

That is when he had his first ride in a plane. A man named Jap Gloster was selling rides in a Velie- Monocoupe for $3 each. From that moment on, he worked odd jobs at the airport- washing planes- to earn rides.

He worked for Ernie Buehl- The Flying Dutchman- at Somerton Airport from the 1930's to the 1940's.

In 1939, he joined the National Guard of Pennsylvania.

In 1942, he joined the Army Air Corps.

He came to Texas for his indoctrination at Kelly Field in San Antonio. From there he went to Ballinger for Primary Training. His basic flight training was at Randolph Field in San Antonio. He then trained on twin engines at Ellington Field in Houston and did his B-24 training at Tarrant Field in Ft. Worth.

He met and married my mother, Dorothy Dale Dees, in Ft. Worth in July of 1943.

They went to Tucson, Arizona so that he could do more training at DavisMonthan Field. From there they went to Alamogordo, New Mexico, which was his last stop for training before going overseas.

He flew to Manduria, Italy and became the co-pilot of a B-24 called "The Gallopin' Ghost." The pilot's name was Van der Kamp. They were part of the 722 Squadron of the 450th Bomb Group.

On their 9th mission, Feb. 22, 1944 (Big Week), life stopped for everyone except my father and 2 other crew members.

They were flying over Germany, on a bombing mission to Regensburg.

What my father remembers is "Fighters at 2 0' clock high. Flashes, tracers overhead and into the nose of the plane. Explosions! The fuel tanks blew!" He had pulled off his oxygen mask, causing severe burns to his face. He crawled over the flight deck, the floor was covered with 50 caliber shellsthere was blood everywhere. He got to the bombay door- and laid on it. He tried to pull the manual handle, but passed out. His last vision was of his mother and my mother. He felt like a giant hand swept him out into incredibly cool and quiet air. He was floating. He screamed "Oh God" , then he found the rip cord and pulled it. Suddenly his chute popped and pulled him up like a puppet.

As he floated down, he looked at the terrain. It was snowy and cold. He landed up to his knees in snow. Then, a German farmer appeared in front of him. My father said, "Have you got a knife?"(He wanted to cut his Mae West off). Then a group of people gathered and a young German asked my father, "Have you got a cigarette?" My father replied, "No, sorry, lost them on the way down." Seeing his name, Kraus, on his flight suit, someone else said "Why are you fighting the Fatherland?" My father said, "I am an American, born in America, who do you think 1 would fight for?"

In the meantime, the farmer had pulled up a horse drawn sleigh and motioned for my father to get in. He gathered up his chute and got in the sleigh.

They went to the farmhouse where my father was laid on the sofa. He remembers all of a sudden feeling the terrible pain of the bums, he was groaning. He pulled open his fIrst aid kit and handed the farmer's wife a needle and ampule of morphine. She injected it in his arm and he felt "blessed peace."

He asked for a mirror to see himself They led him to the bathroom where he saw his burned head, all red and black.

Soon, a German soldier showed up at the door with a stretcher and loaded my father into an ambulance. They went straight to a convent clinic in Mallersdorf

He was taken into the building and was greeted by a voice speaking English. While his wounds were being dressed, this person talked to him about American jazz... and questioned him about his home base." My father said, "What kind of soldier would I be to betray my comrades?"

The nurse/nun wrapped his head in paper bandages with a hole for his mouth. He was put into a room and the door was locked. He layed in bed for days trying to figure out how much time had passed. He could hear a clock chiming in a clock tower.

They finally put him in a # 12 washtub in the hallway and poured a purple liquid antiseptic over his head and the scabs fell away. He was then taken to a different area by a uniformed man who washed out his eyes. He has always said that he looked up and saw a beautiful woman in a blue dress whom he thought was Marlena Dietrich.

After what he estimated was about 7 weeks, he was blindfolded and transferred by ambulance to Munich. It was a grueling long ride in the snow.

His head was still bandaged when he arrived at the Luftwaffe Lazaret in Munich. A Gestapo agent began grilling him for information. My father refused to ten him anything and the man ripped the bandage off of his tender head causing extreme pain. At that point, a nurse/nun, named Swester Hilla came in and stopped the torture. She put my father in a room next to her office. She became his guardian angel while he was there for the next several months as a POW.

In January, 1945, my father was exchanged for German POW's and came back to the United States. He was in and out of Valley Forge General Hospital where he had 14 plastic surgeries.

He moved back to Texas with my mother where he remains today (July 2006).

Information provided by Deborah, Philip's daughter.


Link to Crew Picture
Link to Missing Air Crew Report