«
«
«




«
«
«
«
«




«
«
«
«
«




«
«
«
«
«
«
«
«
«
«
«
«
«
«
«
«
«
«
«




«
«




«
«

Beuford L. Lowrance
Radio Operator
722nd Squadron, 450th BG (H)
---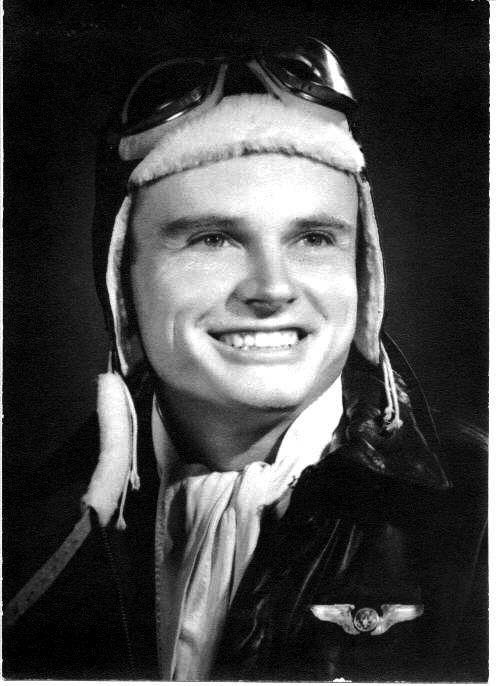 Photograph taken while at Davis-Monthan Army Air Force Base, August, 1943




Photograph taken on the completion of 50 missions.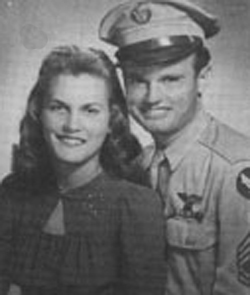 Beuford and Inabelle Lowrance




THIS PAGE CONTAINS PORTIONS OF A WORLD WAR II CHRONOLOGY OF MILITARY SERVICE TIME AS EXPERIENCED BY BEUFORD L. LOWRANCE, S/N 37397918, RADIO OPERATOR AND WAIST GUNNER ON A B-24 (H) LIBERATOR BOMBER NAMED TONI GAYLE. ASSIGNED TO THE FIFTEENTH AIR FORCE, 47th AIR WING, AND THE 450th BOMB GROUP, CONSISTING OF THE: 720th, 721st, 722nd AND 723rd BOMB SQUADRONS. THE TONI GAYLE AND ITS CREW WAS ASSIGNED TO THE 722nd SQUADRON. THE FIFTEENTH AIR FORCE WAS ACTIVATED ON NOVEMBER 1, 1943, WITH HEADQUARTERS AT TUNIS, TUNISIA, AND LATER MOVED TO AN AIRFIELD IN THE FOGGIA, ITALY AREA. THE 450th BOMB GROUP ARRIVED AT ITS ASSIGNED BASE NEAR MANDURIA, ITALY, IN LATE DECEMBER, 1943, AND EARLY JANUARY, 1944 AFTER BEING FORMED AND TRAINED AT ALAMOGORDO ARMY AIR BASE IN NEW MEXICO.
THE NARRATIVE INCLUDES SERVICE TIME FROM INDUCTION TO SEPARATION FROM SERVICE. COMPILED AND WRITTEN IN 1997-98.


---
12/03/42 - Arrived at St. Petersburg, FL around 1:00 P. M. Thursday. Made the Air Force as I had requested. St. Petersburg was primarily a retirement and resort city with a population of mostly wealthy, elderly retired people. The Air Force had taken over most of the major hotels, cafeterias, and eating establishments for troop training purposes. The hotels served as barracks and the eating establishments as mess halls. Donald Adamson and I were assigned as roommates in the Hotel Albemarle, some ten stories tall. We were both from Wright County; MO. Adamson was my roommate for the thirteen weeks of basic training. Basic training was done on the city streets and parks of St. Pete. We pulled K. P. and guard duty in and around the hotels and eating establishments and I pulled my share of both. K. P. was especially treacherous as the cafeteria floors were made of vitreous tile and very slippery when wet with soapy water, which was always. It seemed my specialty was washing the dirty dishes. If we broke a dish, we bought it and signed a statement of charges for its cost that was deducted from our next pay allotment of $50.00 per month. It was not all bad, however. Some of the best apple pie I have ever eaten was baked in these kitchens. I did not mind K. P. so much as I had access, sneaky though it was, to all the apple pie I could eat and I could surely eat my share. I spent about a week following basic awaiting a troop train before heading for my unknown new assignment. Most of the Company had already moved on to other camps and assignments. A very nice city to be assigned to for basic training.


---
02/09/43 - It was about this date we arrived in Sioux Falls, SD, after having left Chicago a couple of days or so earlier. It took most of this time to thaw out. My new assignment was to the Sioux Falls Army Air Force Radio Technical Training School.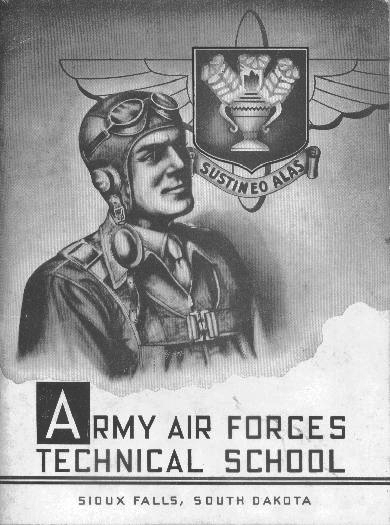 This was one of the hundreds of temporary bases thrown together at minimum costs for troop training purposes. The barracks were known as "tar paper shacks" and single story. The buildings were of wood frame construction with rough sheeting lumber on the outside and this was covered with rolls of black tar impregnated paper. The tarpaper was stripped with lath boards to hold it in place as the paper had no strength in itself and the winds were fierce. There were no inside ceilings or wall sheeting. Just the wall studding, ceiling joists and roof rafters. There were four, perhaps six, single bulbs equally spaced down the building center which lighted each building. Three coal fired stoves, down the building center, supplied heat. There were sixteen single bunk beds along each wall housing thirty-two G. I. 's per building. The stockpile of coal, along the railroad spur was unbelievable. It must have been fifty or more feet wide at its base and 20-25 feet high and was at least one-fourth mile long. A coal bin was placed at the rear of each building and we had to keep the stoves stoked with coal for heat. Showers and latrines were in separate buildings to the rear of the barracks, probably one for each three barracks.
The technical school term ran for eighteen weeks and there were 263 graduating in our class, with graduation on June 15, 1943. The course consisted of radio mechanics and learning the Morse code. I seemed to do very well in both. Students were given only a grade of pass or fail. It may be I was best in code as I reached a hand copying speed of 37 WPM (words per minute), about the maximum speed one could attain in hand printing. Had I been able to take a typing class in high school I could probably have achieved a copying speed of 60-65 WPM. We memorized the Morse code in mixed five letter-number segments sent by a code machine through our earphones. Starting at ones lowest speed of comprehension and stepping up the speed by five WPM until one reached his maximum ability to copy. To pass the code test for graduation we had to achieve a minimum sending speed of 10 WPM and 15 WPM for receiving. We were allowed no more than three errors in each five-minute segment for five consecutive transmission periods.
On graduation my orders had been cut to enter advanced radio school at a college campus in Madison Wisconsin.





Alas, this was not to be. I took the German measles before shipping out and this, forever, changed the direction of my military service. I have
Often wondered what might have been had I not taken the measles. The advanced schooling at Madison likely would have put me in aircraft control tower work. Would I have continued in this profession in civilian life? Probably. If so, I could have been among those fired by President Ronald Reagan in the 1986 Air Controllers strike.


---
08/03/43 - About this time, after graduating from air gunnery school, I am re-assigned to Davis-Monthan Army Air Base at Tucson, Arizona. Here, we were run through the de-compression chamber to see if we could tolerate high altitude flying and I had no problems. We began our flight training at our assigned position; I as radio operator-gunner on a B-24 Liberator Bomber. I am now certain of being assigned to overseas
combat duty somewhere in the European Theater of Operations (ETO) or the Pacific. This training lasts through August and into early September. The base is the nicest I have been assigned to, except for basic training at St. Petersburg. This is a permanent base and the climate is dry but very hot at this time of year. The barracks were two-story frame structures and cooled by washed air with fans pulling outside air through a filtering system. It was very much like walking into a cave on a hot summer day. We do air-to-ground and air-to-air machine gun practice on towed targets and simulated bombing attacks. It is here that my wallet is stolen and I am about to be transferred again.
After my wallet is stolen, I went to the Red Cross and borrowed $20.00 by signing a statement of charges to deduct the amount from my next pay allotment. My new assignment was to be Alamogordo, New Mexico, Army Air Base. I had made PFC soon after entering radio school and Corporal on graduation. To entice volunteers to gunnery school an automatic grade increase to Buck Sergeant (Three stripes) was granted to those who graduated and few failed. Although I had not applied for gunnery, I made Sergeant on graduating, too. This increase in grade put me in Non-commissioned-officer (NCO) status that carried many more responsibilities and privileges than the first three grades. A ten-day delay-enroute was granted to make the transfer. So I boarded a train and headed for Mansfield, MO and my wife, Inabelle for a last short visit with both our parents before going on overseas assignment and combat duty somewhere in the in the war zones of Europe or the Pacific.


---
MY FIRST DIARY ENTRY BEGINS HERE: 11/24/43 - Left Alamogordo, New Mexico, and arrived at Herington, Kansas, for (our overseas) staging area. (Herington was primarily used as a B-24 staging area for overseas assignment for the Air Force, although originally it was to be a training base for P-38's and in April, 1944 was converted to a B-29 training and overseas staging base. Some 3,000 crews of B-24 and B-29's went through Herington before closing in October, 1945. As I recall, there were Air Force, Naval and Marine fighter planes coming and going at all times as well as B-24's, B-17's, B-25's, B-26's and other bombers, probably as an interim field training facility. (The B-26 was known as the "Widow Maker" . The tail was light on the early version and for this reason, it was prone to go into an uncontrolled dive. Prior to installing tail guns for extra weight, sandbags were used as ballast.) Each pilot of the 450th had been issued a brand spanking new B-24H Liberator Bomber painted olive drab, before departing Alamogordo for which he signed the usual Statement of Charges. Our aircraft's serial number was 129221 or 221 for short and was later named Toni Gayle in honor of the pilot, Clarence B. "Babe" Caldwell's infant daughter. We had some experience and training and got "acquainted" with the new plane while at Alamogordo. Crewmembers stood "round the clock" guard duty with it at all times other than when in flight. As I recall, the 720th and 722nd Squadrons were issued 16 Liberators and seventeen crews. Of my two information sources, one has the 450th with 62 planes and the other 64 planes on the overseas trip. In addition four extra crews were assigned for replacement purposes. These crews, as well as each planes Ground Crew Chief and other picked ground crew members, were split up and flown overseas with the various B-24 crews of the Group. Our crew was assigned one officer and three EM for the overseas journey. S/Sgt. Stanley J. Gerdes, ground crew chief of Toni Gayle and three others, S/Sgt. James B. Macy, T/Sgt. John H. Brown and 2nd Lt. James B. Ryan. A copy of the crew roster of the overseas flight is contained elsewhere is this missive.


---

You can download the complete 92 page diary of Beuford Lowrance in PDF file format HERE.
(right click and "Save Target As")