One Lost
An Airman's Story


Cpl. Delbert W. Trueman
By Kim Clarke
ã Kim Clarke
Please request permission to reprint
302 Oak St.
Ypsilanti, MI 48198
Introduction
For the fourth straight day it was raining in Marion.
It was warm for late January in northeast Indiana, and the weather danced between rain, a stinging sleet and snow flurries.  Anyone walking outside did so quickly, head tucked into chest.
It was freezing rain that greeted the Pennsylvania Railroad's Fort Hayes as it pulled in to Marion's train station shortly before lunchtime.  Three hours out of Columbus, Ohio, the passenger train was halfway through its daily run to Chicago.  Marion was one of a dozen small-town stops the Fort Hayes made as it bisected Indiana.
Passengers stepping off the train most likely didn't notice the hearse from Raven Funeral Home idling alongside the brick station.  While people made their way from the coaches into the wet day, a uniformed soldier moved from his seat to the baggage car.  Once there, he met up with the owners of the hearse.  Together, they lifted a casket and carried it to the funeral car.  It was surprisingly light.
More than four years after spiraling to his death aboard a crippled bomber in the skies above Vienna, Cpl. Delbert Trueman was home.  It was January 1949.   A small headline in that morning's paper, "Plan Services for Soldier," announced his return.   The funeral, the paper said, would be the next day.  Rain, possibly snow, was in the forecast.
Brothers in Arms
It had been a lousy month in Manduria, Italy.  Seventeen days into October of 1944, and the 450th Bomb Group had been able to fly only six combat missions from its home base northward into Nazi-controlled territory.  Rain and a continual blanket of clouds kept the group's B-24 bombers grounded; it was particularly annoying given how American air crews had shipped to Italy in late 1943 because it offered better weather than the fog that continually trapped the Eighth Air Force in England.  But this morning they were going up, and Delbert Trueman was preparing for his first bombing run into enemy territory.
It had been a long, tiresome road that took Trueman from the small Indiana town of Marion to the olive groves of the air base in the heel of Italy's boot. Enlisting was never in his plans.
War had, of course, come to Marion.  The bombing of Pearl Harbor rattled the town, with newsboys yanked from their seats at Sunday matinees to deliver special editions of the Marion Chronicle; a former paperboy, Wendell R. Hurley, was among those to go down with the USS Arizona.  Day after day, local men signed up and shipped off to basic training camps around the country.  Others were drafted, tapped by a local selective service board put into place more than a year earlier when President Franklin D. Roosevelt began calling up able-bodied men anywhere from 18 to 35; Germany's ransacking of Europe was under way.  "We must and will marshal our great potential strength to fend off war from our shores.  We must and will prevent our land from becoming a victim of aggression," he told Americans.
The draft spared Trueman. He was married with a young daughter and, while eligible to be called, he and other fathers were passed over in favor of single men in town.  Life went on amidst the rationing of food and the collecting of rubber, tin and grease. Delbert crisscrossed the city as a meter-reader for the local electrical company and his wife, Virginia, worked as a bookkeeper.  They went out on Friday nights to watch the Marion High School basketball team; in the mid-'30s, Delbert had lit up the court as a star guard who played well enough to land a scholarship to Butler University, 60 miles south in Indianapolis.  Saturday nights were spent playing cards with friends.
Marion had always been home.  While born in Danville, Illinois, a city wedged along the Indiana border, Delbert grew up in Marion.  He was the oldest child, a big brother to three siblings.  He made a name for himself in high school, appearing regularly on the sports pages as he steered the varsity basketball and football teams to victory in a town that entertained itself with the exploits of the Marion Giants.  He was ramrod straight, both on and off the field.  For all his popularity, from his pick as president of the junior class to receiving the school's top athletic award, classmates still voted him "most bashful."  No one would ever accuse Del Trueman of being wild.
His brother Dale followed him.  Two years apart, the boys were closer in age than were their sisters.  Like Delbert, Dale was an athlete.  After high school and the basketball team, he suited up as a left wing for the Idyl Wyld Roller Hockey Team, a group that would bring Marion a small measure of fame as state champions.  His nickname was "Stud."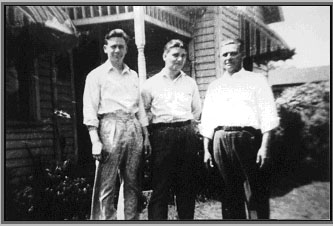 Delbert Trueman (center) flanked by his younger brother, Dale and their father, Paul.
It was Dale Trueman who first went off to war.  He already knew about flying, thanks to a Piper Cub he kept at the Marion Airport.  He enlisted in the Army Air Corps in June 1942, seven months after Pearl Harbor and six weeks after Col. Jimmy Doolittle and his B-25 bombers scored America's first serious blow against Japan by emptying their bomb bays over Tokyo.  Dale Trueman would be a military pilot himself.  He moved from his Piper Cub to the Air Corps' trainers – the Curtiss AT-9, a tricky plane known for giving new pilots a challenge with its twin engines, and the Beech AT-10, a more advanced trainer.  By February of '43 he was wearing gold – two bars as a second lieutenant and a band around his finger as a husband.  By June, he was piloting B-24 Liberators, heavyweights that carried a crew of 10 and just as many 500-pound bombs and .50 caliber machine guns.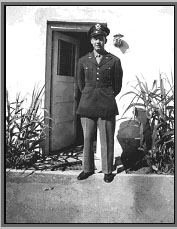 Dale Trueman after graduating from flight school and becoming a second lieutenant.
From his air base in Salinas, California, he mailed home a magazine's drawing of a B-24, drawing a circle around the cartoonish pilot and scribbling "ME."  A few more weeks of training and he would be on his way to England as part of the Eighth Air Force.
Instead he was a victim of bad timing.  After nine hours of nighttime flying along the California coast in early July, he prepared to land his B-24 near Bakersfield.  One of the plane's four engines – the No. 2 powerplant on the left wing – had a bad propeller and he shut it down.  Gages indicated the remaining engines each held 50 gallons of gas, a trickle compared to the 2,900 gallons the plane was built to carry.  The radio operator's attempts to contact the ground for landing clearance went unheard, and no one in the tower saw the plane as it lumbered in the clear black sky.  The No. 1 engine, the only thing keeping the left wing aloft, ran out of gas.  The plane plunged to the ground and burst into flames that lit the air.  Two crewmembers managed to escape the burning wreck.  Seven men, including 24-year-old Dale Trueman, died instantly; they joined the 40 percent of airmen who washed out of training because of something so innocent as bad eyesight or so perverse as running out of fuel 4,000 feet in the air.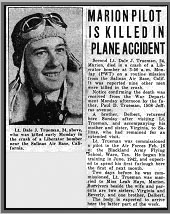 The Marion newspapers carried reports of Dale Trueman's death.
The war suddenly came home to Delbert Trueman.  He and his family were preparing to leave the house for a matinee when the phone rang.
"He was pretty broken up.  They were only a couple years apart," said his wife, Virginia. "We were home on a Sunday afternoon when they called.  When he called up to his parents' home, he found out that his dad was playing golf, so he had to go out to the golf course and tell him."
1944
 No one wanted him to sign up.  He had a wife and 6-year-old daughter to think of.  He was now his parents' only son.
But someone, he argued, had to carry on for his brother.  Someone, he said, had to pay for his family's pain.
"He didn't seem to be angry.  He was hurt more than anything.  He was just hurt," his wife would recall, "like he felt he had to do something to take Dale's place."
A week before Thanksgiving of '43, Delbert was deemed qualified to be an aviation cadet and he told Marion's Selective Service Board he wanted to volunteer; like his brother, he was going to be a pilot and indicated he would serve with the Army Air Forces.  A month later, he drove north to Fort Wayne and enlisted.  The Army noted he was 26, standing 5 feet 8 inches tall with blue eyes and brown hair.  When reporting for duty in the new year, the Army told him, he should show up with the clothes on his back, an extra pair of underwear and socks, a razor, shaving cream, toothbrush and toothpaste.  And be sober.
America was two years into its war with Germany and the Axis powers, with Europe as its primary combat theater. Since early 1943, U.S. and British military leaders had made it clear that the destruction of Germany was paramount.  An air combat strategy known as the Combined Bomber Offensive directed U.S. and Royal Air Force flyers to go after the engine of Hitler's war machine.  Their targets: factories producing aircraft for the Luftwaffe, ball-bearing plants, oil refineries, and fortress-like pens holding the German U-boats that routinely torpedoed Allied vessels in the Atlantic.
Essential to the offensive were heavy bombers, aircraft that could carry thousands of pounds of ordnance deep into Germany and the neighboring countries it occupied.  The B-17 Flying Fortress and the B-24 Liberator led the offensive.  Each was heavily armed and capable of carrying a crew of 10; where the sleek Forts flew higher and held up better against enemy flak, the chunky Libs went faster, farther, and carried more bombs.  They would be escorted into enemy territory by smaller P-51 Mustangs and P-38 Lightnings, nimble fighter aircraft that could fend off attacks by Luftwaffe pilots looking to bring down the bombers.
Delbert desperately wanted to be behind the controls of a bomber.  His first choice – like that of so many men joining the Air Forces – was to be a pilot.  It was the glamour job, the command position glorified in recruitment posters and magazine advertisements.  If not a pilot, he was told to choose between training as an airplane mechanic or a radio-gunner, handling both communications and a .50-caliber machine gun to protect the aircraft.
"I chose the latter," he told his wife. "It consists of 12 weeks radio school and then on to gunnery school.  I certainly hope I don't have to take that, though.  If I don't get through as pilot, bombardier or navigator, it (radio-gunner) will be satisfactory."
But before he became anything, he was sore.  And tired.  Day after day, he and his fellow recruits sprinted, scrunched, pushed and pulled themselves through body conditioning. "I probably won't be able to walk in the morning," he wrote his daughter after arriving at basic training camp in Greensboro, North Carolina.
Equally important to the Army Air Forces was the mental and psychological condition of its potential airmen.  Testing helped determine who was best suited for which crew position, and who could be trained the quickest.  Examinations were the norm, with day after day of questions and theories about subjects Delbert hadn't focused on since high school. 
"It couldn't have been much harder," he said after a particularly frustrating battery of tests.  "It was composed of geometry, algebra, history, physics, English, etc.  Really was a tough one.  I'll probably end up as a gunner.  Ha!"
Virginia urged to him to become a mechanic.  It was far safer, as ground crews stayed behind when the bombers and their gunners took off for enemy targets.
"I would never make a mechanic, honey," he wrote back, "which is the reason (one of them) I chose gunner.  I never did care for that kind of work.  If I can't make a pilot, bombardier or navigator, gunnery is my next choice. 
"It should be exciting and interesting and is one way of getting the b------ds that started this and ended Dale's life.  Understand?  But don't let's talk of that now.  I am not a gunner yet!" he wrote, underlining the last sentence.
The U.S. Army Air Forces had too many men who wanted to be pilots and nothing else.  By December 1943, as Delbert was packing what little items he was allowed to take to basic training, the USAAF had nearly three-quarters of a million men in pilot training.  Yet somebody had to navigate the bomber, or train as bombardiers to spot a target from four miles above the Earth, or sweat it out as gunners in the cramped turrets that looked like blisters on a bomber's aluminum skin.  The USAAF turned to novelist John Steinbeck for help in promoting the team spirit it needed in recruiting and manning its heavy bombers.  All airmen are equal, Steinbeck would write in Bombs Away, his detailed 1942 account of aircrew training.
"Not everyone on a football team insists on being quarterback.  He plays the position he is best fitted to play.  The best football team is one where every member plays his own particular game as part of the team.  The best bomber team is the one where each man plays for the success of the mission," wrote Steinbeck.
The Army Air Forces told former quarterback Delbert Trueman he had a weak eye, put him on a train and shipped him halfway across the country to Harlingen Army Air Field at the southern tip of Texas.  He was going to become an aerial gunner, the least prestigious of the Army Air Forces' "Four Horsemen" that also included pilots, bombardiers and navigators.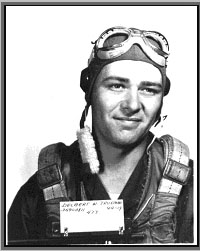 Delbert Trueman at gunnery school.
Delbert was resigned.  His eyes were fine, and the Army knew it.  "Evidently they had just filled their quota for pilots when they washed me out.  It sure is disgusting, to say the least," he said.
The Army Air Forces' seven gunnery schools literally left men bruised.  For weeks they practiced shooting, firing everything from 12-gauge shotguns to mounted .50-caliber machine guns and unloading thousands of rounds of ammunition.  They shot at clay pigeons and fixed targets pulled by trucks.  The constant, pounding recoil of the guns turned a man's shoulder purplish-blue.
It wasn't until late April, more than four months after putting on an olive-drab Army uniform, that Delbert first went up in a military plane, lifting off from a Harlingen runway and heading south for the Gulf of Mexico.


Delbert, far right, with fellow gunners at Harlingen Army Air Field in Texas.
"Finally got my first mission in this afternoon.  Was up for about 1 hour and 15 minutes in an AT-18.  That's a twin-engine, twin-tail, light bomber, in case you didn't know," he wrote his wife and daughter later that evening.  "We flew out over the Gulf for about 50 miles and shot 300 rounds apiece at targets towed by other planes.
"Boy let me tell you that it gives a fellow a funny feeling when he goes out over that water for the first time.  Of course we wear 'Mae West' life belts and parachutes in case we would have the occasion to use them.  I hope that time never comes, huh?  Saw quite a few Mexican fishing boats out there, as well as an awful large convoy headed for parts unknown.  It was an awful pretty sight to see, as you can imagine."
Still, he was homesick.  At 27, he'd never really been away from his family and friends; he'd gone off to college with his basketball scholarship and plans to become a teacher and coach, but quit in his first semester and hitchhiked home. Now, he tired of the military routine, and didn't care much for the haircuts and the constant studying.  And the shots – vaccine upon vaccine against smallpox, typhoid, yellow fever, cholera.  He marveled that he could still move his arms.
He wrote letters almost daily to folks back home, and worried if he didn't see the same in return. He'd spent his birthday alone, in a base infirmary sick with the flu.  Easter came and went.  He ached for his family.
"Well, sweetie," he wrote daughter Judy, "tell all your grand-folks hello for me and then run over to Mother, grab her by the neck, pull her down and squeeze to beat the band.  Put a big smacker on her kisser, will you?  You be good now and write Daddy some more letters."
In Marion, Virginia and Judy had moved in with her parents and younger sister, in the same house where she and Delbert had exchanged their wedding vows eight years earlier.  They had lived modestly in a rented house before Delbert enlisted but now, without his paycheck as a meter reader, it was easier to move back home.
Life also had its lonely moments for Virginia.  None of the married couples they knew was split up by the war like she and Delbert; no other men had enlisted.  Friends didn't call as often; without her husband, she didn't seem to fit in with the old crowd.  She busied herself writing letters every day to Delbert.  And she took a job, walking a half-block from home to an electrical supply company.  Since the war's start and the depletion of male employees, the ranks of Indiana women who went to work had grown 40 percent.  She had worked in the early years of their marriage, when they struggled to pay the rent, but now that she alone was raising their daughter and he was gone, Delbert objected. 
"I thought you were going to forget working unless you just had to.  I still believe that you don't have to and would just as soon you quit," he wrote her.  "I never did believe in your working unless it was absolutely necessary, you know.  I hate to always bring up the matter of working but, well, that's one of my sore spots."
Still, most of his letters were bright, and typically to Judy.  He'd tease her, calling her "Bud," "Judy Poody" and "Honey Bunny Boo."  He encouraged her to write letters and draw pictures of airplanes for him.  He asked about school, her grades and was she being a helper for her mother.  Please don't cry when I call home, he asked, because I want to talk with you.
"She missed him. He was real good taking care of her and real good with her.  He loved her very much," Virginia said.  "He thought the world and all of Judy."
He mailed Judy presents – cowboy boots, money, a pistol, a tiny airman's uniform complete with a jacket and service cap.  She and her friends were already bounding through the neighborhood wearing hand grenade belts and helmets and playing "Army." Nazis and Japs were the bad guys.
Delbert graduated from gunnery school, earned his silver wings and shipped from Texas to Westover Field in Massachusetts.  The train passed through Washington, D.C., where he was able to drop a postcard in the mail to Judy.  "Daddy is still on the train …Am very tired and dirty."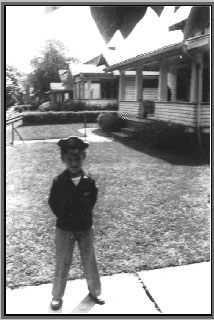 Judy Trueman shows off her airman's jacket, wings and cap.
The real training began at Westover.  It was here that gunners and bombardiers, pilots and navigators arrived from their separate schools to be joined as crews, tightly bound groups of men who would come to rely upon each other for their lives in the sky.  When the air war began, these groups of men were known as Overseas Training Units, or OTUs.  By the time Delbert reached Westover in mid-1944, the groups were called RTUs – Replacement Training Units. The AAF was sending up a staggering number of planes in Europe and the Mediterranean; in June alone it flew 130,000 sorties, almost half the number it made in all of 1943.  Original crews had either been blown out of the skies or rotated back home, seeing how the Army realized a fixed tour of duty was best for morale and kept airmen from breaking down under the strain of combat. RTUs would fill in the missing rosters of overseas squadrons.
Delbert found himself teamed with men from across the country: a navigator from Connecticut, an engineer from North Carolina, gunners from upstate New York and Seattle, Washington, and a bombardier from Wisconsin.  They would become Crew 272.  He particularly liked his pilot, a solid 6-footer named Lloyd White who came from a rural Tennessee burg called Hornbeak.  Like Delbert, he was a little older than the other men. "He is about 7 months older than me, I think.  He is a pretty big fellow and seems to be the kind of a guy who will handle these Liberators with ease," Delbert said.  He liked that White had been a flight instructor before moving on to the B-24, a fat-bellied craft often maligned by aircrews as a "flying boxcar."
Along with his new crewmates, Delbert was assigned his gear.  It was the cusp of summer, but he and his crew needed clothing and equipment that would protect them from temperatures that plunged to 50 below zero.  At 20,000 feet, the uninsulated and unpressurized B-24s became flying freezers.  Guarding the men against frostbite and hypothermia were 10-inch-high shearling boots with rubber soles, pants lined in wool from sheep and alpaca, a leather flying jacket, goggles with eye cushions, leather flying helmets, and goatskin gloves lined with camel hair.  Also keeping the men alive were oxygen masks that were essential anywhere above 10,000 feet.  It was just short of amazing to expect gunners to be able to move, let alone accurately shoot down enemy fighters screaming toward them at 400 mph.
Delbert and Crew 272 did their most serious training at Chatham Field in Savannah, Georgia, where they were shipped in troop trains to spend the summer of '44.  For two months they flew as a team: Delbert logged 81 hours of daytime flying, 22 at night and 26 hours at four miles or higher, all the time practicing his shooting. He learned that a head cold was murder at 10,000 feet, and your guts blew up like a balloon the higher you climbed.
But what really wore him down was the Georgia sun.
"Here it is the 11th of June, just five months to the day for the Army and myself.  And here I sit with the sweat just running off me.  Ha!  It's really warm down here and I don't mean maybe.  I hate to think of the next two months.  Boy oh Boy!" he wrote just days after arriving in Savannah.  The place felt like a swamp.
But Chatham Field became more like home to him than any other base.  His wife and daughter would spend the summer with him in military housing, where other airmen
and their families set up tiny apartments and tried to establish some normalcy in their uniform lives.  Another gunner from his crew, Charlie Ward, moved in next door with his wife and toddler. 
It was the only base Virginia and Judy visited.  Ice deliveries were made daily, and people took their showers in the evening with water heated by the day's sun.  Low-flying Liberators droned overhead, with gunners waving white handkerchiefs from the plane's waist to their children on the ground.  Pilots dipped their planes' wings to say hello to their wives.  Training missions took them to Cuba and back.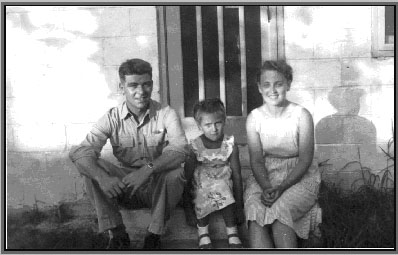 Delbert and Virginia Trueman and their daughter Judy outside their apartment at Chatham Field in Savannah, Georgia.
When he wasn't flying, Delbert was training on the ground.  More hours of gunnery, using skeet rifles and machine guns.  He practiced shooting from a simulated turret; his size made him particularly suited for the cramped bubble that dotted the nose and tail of the B-24, and straddled its fuselage at the wings.  Small men were favorites as turret gunners, and Delbert was being groomed as a nose gunner.
Crew 272 jelled.  They left Savannah in August and headed to Langley Field; four years earlier, Langley had borne the 34th Bomb Group – Dale Trueman's outfit.  Now his older brother was touching down long enough to receive a full set of clothing and equipment before heading to Europe and, finally, the damn war.
Crew 272 needed almost a month to make its way across the Atlantic, following the convoluted route the AAF laid out for its aircrews traveling to Italy.  Their stops read like a fever chart on the atlas: Bangor, Maine; Goose Bay, Newfoundland; Lagens Field in the Azores, where Lloyd White put the plane down on metal landing strips and nearly scared his crew to death; Marrakech, French Morocco.  It was in North Africa where they stopped and waited to hear where they were headed next.
Combat was still a continent away, but it was close in other ways.  The men were told to write home and tell their mothers or wives to set aside important paperwork such as birth certificates and marriage licenses.  "Now make sure you have those things," Delbert wrote Virginia.  "If you don't have them, get them immediately.  There is nothing like being prepared, you know."  He had completed his will before leaving the States.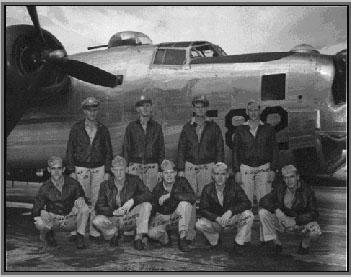 The men of Crew 272:
Rear (from left) Byron Fish, Richard Kitzman, Lloyd White, Lloyd Greene. 
Front (from left) Thaddeus Guzan, Charlie Ward, Charles Kleinhenz Jr., Delbert Trueman, Robert Warner.
Along the way, Delbert kept writing home.  No letters came his way; it was impossible to forward mail to the moving target that was Crew 272.  He began ending letters with a postscript: "Still love me?" His correspondence was now being censored by his pilot, as was all of the crew's mail.  Writing from "somewhere in N. Africa," he was
stumped for what to say, knowing anything of interest to his family would fall under Lloyd White's black marker or, worse, penknife.  He was a meter man from Indiana who was seeing the world and could tell no one.
"Warner, Greene, Charlie and myself are now sitting here throwing the bull, etc., and figuring out just how far we all are from home.  Quite a ways, let me tell you.  Further than I ever dreamed I would be," he wrote. "I sure wish you could be along, too, and see everything we have seen.  Really interesting.  I'll tell you about it when I get back."
Olive Groves and Bombers
Italy was a country in transition when Delbert Trueman and Crew 272 flew into it in early October 1944.  It had been more than a year since Allied forces stormed ashore at Salerno and began wresting the country from the Nazis, who had held the nation following the surrender of fellow Axis leader Benito Mussolini.  Working from the boot of Italy, Allied troops fought northward to Rome.  With every push of the ground troops, the Air Forces followed and established bases and airstrips in the newly captured southern country.
These new bases would be home to the Fifteenth Air Force.  Since the attack on Pearl Harbor, the USAAF had set up air forces at home and around the world: England, the Philippines, India, the Panama Canal, the Hawaiian Islands, Egypt, Algeria, China.  Each air force played a different role in the overall drama of defeating Germany and Japan.  The Eighth Air Force, based in England, was taking the lead in pounding Germany.  But more firepower was needed to soften the Nazi strongholds and manufacturing centers throughout Europe – locations that were simply too far for British-based bombers – and Italy offered an excellent strategic setting.  From this Mediterranean location, aircrews could bomb dozens of oil refineries that produced nearly half of Germany's fuel supply. 
The Fifteenth Air Force would target Germany, Austria and France, and smaller nations such as Yugoslavia and Rumania.  It was made up of B-24 and B-17 bombers, plus a trio of fighter planes: P-38s, P-47s and P-51s.  When it was activated in November 1943, the Fifteenth had more than 20,000 men and 931 aircraft scattered across southern Italy in combat groups.  Lloyd White, Delbert Trueman and Crew 272 were headed for the 450th Bomb Group and Manduria, a centuries-old village dotted with olive groves, almond trees and peasants leading horse-drawn carts.
They landed on October 8, nearly three weeks after leaving the United States.  The base may not have looked like much to them, but it was a palace compared to what the first crews faced in Manduria 11 months earlier when they inherited an air strip abandoned by the Italian Air Force.  The early days were primal.  The rain was incessant, making for a thick mud that sucked at men's boots and pasted their pant legs as they walked.  Enlisted men foraged for lumber and nails to build barracks; they were wallowing on cots in tents while the officers took up shelter in abandoned stone buildings that had once housed Italian flyers.  Empty oil drums were converted to stoves.  Meals were eaten while sitting under trees; the more fortunate diners found stones to use for tables.  Men became woolly with moustaches and beards, not so much because they wanted to but because there wasn't the time or place to shave. 
No one spoke Italian and the locals began raising the price of any material the Americans might need.  A haircut could be had for about five cents, but a light bulb cost 100 times as much.  The poverty of Manduria could not be ignored.
"At every turn we are assailed by groups of ragged and dirty children asking for matches, candy and chewing gum. 'Allo Joe, chewing gomma.  Allo Joe, chewing gomma'," mused an officer as he began recording the 450th group history in December 1943.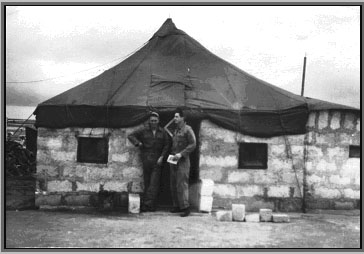 Barracks at the 450th Bomb Group base in Manduria, Italy.
By October 1944, Manduria was an established base to more than 2,200 men.  Local stone masons had been hired to erect barracks.  Each of the four squadrons that made up the 450th had erected a day room, a place where men could relax, write letters and have a drink; the day rooms complemented an officers' club that served cognac for 30 lira, or 30 cents, and champagne for 110 lira. The squadrons took up sides in athletics, with basketball and baseball teams sprouting up.  Boxing was a favorite among the men, who went crazy when boxing great Joe Louis and other fighters staged a few rounds at the airbase.  Other entertainment came in the form of nightly movies and the occasional touring show; song-and-dance man Jack Haley stopped by to deliver an evening of music and comedy, although the women who joined him on stage were a bigger hit with the crews.
The laughs were welcome, and necessary.  The 450th had been engaged in heavy combat since droppings its first bombs in January.  B-24s were lifting off regularly for marshalling yards and oil refineries, and not all returned.  The 450th and other groups from the Fifteenth took a particularly strong pounding whenever they flew to Ploesti, a Rumanian city lined with oil refineries; flak from German anti-aircraft guns was always fierce and accurate.  Men lost friends who only hours earlier sat beside them at breakfast; officers learned to write compassionate letters to mothers and wives.  "We have grown accustomed to missing faces at the group club bar.  Is the group getting heartless?  No!  We are becoming reconciled to the realities of war and seasoned to the outcomes of combat," wrote 1st Lt. Arthur Campa as he recorded the 450th's daily activities. 
The group was also accustomed to replacement crews like Crew 272.  No sooner had Lloyd White touched down at Manduria than his men were taken from him, if only temporarily.  It would be suicide to send a new crew into combat; no amount of training could simulate the noise and smell and terror of the real thing.  Green crews were always split up, sent off to orientation and teamed up with instructors; they were then assigned to fly with seasoned crews until they had a few missions under their belt.  Crews then reassembled.  Once a man had flown 50 missions, he was eligible to go home.
Eight days passed in Manduria before Delbert was assigned his first combat mission.  Twice before in that week, missions had been aborted because of bad weather.  Just two days earlier, on a run to bomb a railroad bridge in Yugoslavia, eight men had been killed; Lloyd White's best friend was among those who died.  Members of Crew 272 could only train and wait for their first encounter with the enemy.


B-24 Liberators fly over the olive groves of Italy.
It was the evening of October 16 when Delbert joined other airmen gathered in the briefing room to hear about the next day's mission.  They always got their assignment the night before.  He learned he was going up, and he blanched when he heard the target: Vienna.  The most heavily defended European city outside of Berlin.  They were to bomb the Osterreichische Saurerwerke, a factory that produced engines for German Army tanks. Crews hated flying to Vienna because the flak was so accurate and so thick it turned the day black.  It didn't take much to bring down a B-24, or cause it to explode in mid-air; a shard of red-hot flak was the Nazis' stone for the Goliath-like Liberators.  Delbert turned to Charlie Ward, his friend and fellow gunner from Savannah, and stared in disbelief.  Charlie took one look and thought he read his mind: I'm not coming back.
That night, Delbert wrote a letter to his wife.  It was one of the few times he addressed his mail to her and not their daughter.  He said nothing of the next day's mission; rather, he talked about how he and the other men were building a home for themselves.  "Worked all day today and really made progress.  In fact, we are having some Italians lay our floor for us tomorrow eve.  That's one job we didn't want.  Too much concrete to mix and pour…I guess tomorrow we also are putting on the roof, too."  He added he was feeling a bit down because he had yet to receive any mail from home since arriving in Italy.
"Gosh, there just isn't anything to write about tonite so I will quit.  Say hello to all for me and have them write.  Bye bye sweet and don't forget I still love you very much and always will.  Write me now."
That night, the men assigned to mission No. 158 to Vienna tied white towels to the foots of their bunks.  It was their way of signaling they should be awakened early to fly the next morning. 
Mission 158
The Fifteenth Air Force had been bombing Vienna and its suburbs since the spring of '44, chipping away at airplane factories, armaments plants and oil refineries on the city's outskirts.  By early fall, the B-24s were unleashing their bombs on the center of the Austrian capital.
The city, often thought of as the cultural heart of Europe, had become an increasingly important target.  With the Allies' successful invasion at Normandy in June, and the consequent liberation of Paris and Rome, Hitler's hold on Europe was failing.  As Allied troops moved closer toward Germany, the Nazis withdrew to Europe's interior, shifting men and equipment to cities like Vienna.  By the fall of '44, 200 heavy flak units were stationed in Austria, with more than a quarter of them in and around Vienna.  Close to 450 guns of varying firepower were trained on the skies above Vienna.
Austrians were in an emotional quandary.  Germany had absorbed their country with its self-proclaimed Anschluss, or union,in 1938.  Many had little love of Hitler, and cared less about taking up arms to defend his cause.  But they could not stand by while their neighborhoods and businesses, their capital and its rich history, were being blown to bits.  When the bombing began, teenaged boys as young as 15 manned the powerful flak guns, which propelled grenade-like shells that exploded four and five miles above the Earth.
It was into this maelstrom that American bombers regularly flew.  Three and four times a month, the Fifteenth Air Force attacked Vienna.  There was no way to avoid the clouds of flak; what was important was not taking too many hits.  Some bombing runs were more successful than were others.  A mission in August saw two dozen Liberators enter Vienna, with only 15 returning; nine bombers and 90 men disappeared in the course of 20 minutes.  The 450th Bomb Group sent 43 Liberators to the city the day before Delbert arrived in Manduria; 27 returned pockmarked and damaged, with another five lost or missing. 
Twenty-eight crews were scheduled to lift off for Vienna on October 17.  It was always quiet on the morning of a mission.  Men were rousted at an ungodly hour, dressed, ate breakfast if they could, attended a briefing and made their way to the planes.  Before leaving the barracks, they placed their personal items in a pile on their beds.  No one knew if he would again need his wallet, or family snapshots, or books.  This day was no different.
Delbert would fly with strangers.  He was the new man and they were the veterans, even though some were nearly a decade younger than he was.  Seasoned crews didn't like flying with newcomers.  Green flyers disrupted a bond that was forged in combat, a sense of reliance and trust that was now weakened by someone whose skills and reactions were unknown.  Replacement crews also were flesh-and-blood reminders of men who were gone.
This crew had seen plenty of combat, although they themselves were cobbled together from other crews.  The pilot was Lt. Leonard Mojica, a 24-year-old Californian who was joined at the controls by his co-pilot, Second Lt. Marvin G. Niederjohn.  Between them, the men had flown more than 70 missions.  Joining the pilots were two others who had flown dozens of missions with them: radio operator and gunner Robert Davis from upstate New York and baby-faced waistgunner Elvin Killingsworth, a teenager they called "Killer."  The four men had been flying together for months, and felt a certain camaraderie.  Rounding out the crew were George Webb, who would determine when the bombs should be released; Joseph Marallo, an engineer and top turret gunner who was three missions away from a ticket home; 20-year-old gunner Richard Conkle; and Richard Pinardi, a photographer who moved from crew to crew to record the damage inflicted by the 450th.  He was on his 22nd mission.
Delbert's crewmates from Crew 272 were scattered; only fellow gunner Cpl. Charles Kleinhenz, who they called Junior, would join him in this plane.  They had trained together since Greensboro and Harlingen.  Today they were in reverse roles: Trueman, a nosegunner, was assigned to the tail turret's twin guns, while Kleinhenz left the familiar confines of the tail for the nose turret.
It was alongside the tail of the plane that Delbert found himself talking with gunner Bob Davis.  They quickly learned they had something in common as the only married men on the ship, and that connection seemed to ease Delbert.  Mojica was, technically, married, but he had a girlfriend on the East Coast and was preparing to divorce his California wife once he got home.  Delbert was anxious, and asked Davis, a veteran of 28 missions, what combat was like.  Don't worry, Davis assured him, October 17 is my wife's birthday and nothing bad will happen on her big day.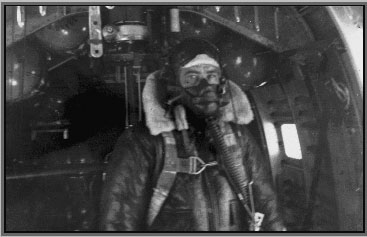 Delbert trains in full gear – flying jacket, oxygen mask and goggles.
They climbed into a B-24 that had been manufactured two years earlier in Ford Motor Company's sprawling Willow Run factory outside of Detroit; it was among the first wave of Liberators produced at the plant under the critical eye of Charles Lindbergh, hired by Henry Ford as his engineering consultant.  Plenty of B-24s in the 450th bore provocative nose art with painted names like "Booby Trap," Bachelor's Bedlam" and "Ten Fighting Cocks." Bob Davis liked to say the paint wasn't even dry before the planes were shot down.  The B-24 they boarded was anonymous, known only by its serial number of 42-51566.
They would leave Manduria at 8:30 a.m., rendezvous above the base with the 376th Bomb Group and head north to San Vito D'Normanni, where they joined two more Fifteenth Air Force units, the 98th and 449th Bomb Groups.  Each group was based nearby in Italy's boot, and each had a reputation.  The "Liberandos," as the men of 376th were called, prided themselves on being the first heavy bomber group stationed in mainland Europe.  The 98th was the Pyramidiers, a nod to their early days based in Palestine.  And the 450th flyers were the Cottontails, so called when the radio propagandist Axis Sally singled out "the white-tail Liberators" after one of their missions; the group's planes bore white rudders.  In turn, the men called her the "Berlin Bitch."
More than 300 planes droned above San Vito.  The 450th would lead the attack on Vienna, which would take four hours to reach.  From San Vito they headed north, out over the Adriatic Sea and toward the Yugoslavian coast.  Once at 10,000 feet, pilots told their men to go on oxygen.  It was also the time to test guns, and men fired off rounds to guarantee the Brownings were functioning and to release their growing anxiety.
The skies were thick with clouds all along the Yugoslavian coast, and visibility didn't improve once the bombers crossed into Yugoslavia and Hungary.  Three hours into the mission, P-38 Lightnings from Italy joined the bombers above the skies of Durdevac, Hungary; pilots like Mojica and White always welcomed the sight of fighters, which the bomber crews called "little friends."  Protection from any German fighters that might be lurking was reassuring.  The 450th had already lost four of its 28 planes on this mission because of malfunctions.
The planes were at 25,000 feet, and the crews were enveloped in frigid temperatures.  The coldest were always the gunners: the nosegunner was continually hit with a blast, waistgunners stood exposed in the plane's openings, and the tailgunner felt the rush of all the cold drawn through the 67-foot-long fuselage and out the plane.  In their heated suits, the men were bathed in cold sweat.  
Heading north to Vienna, the 24 planes veered west toward an Austrian village called Turnitz.  This would be the IP – the Initial Point, a visible spot on the ground from which the B-24s would follow a straight line to the target.  Once at the IP, no plane veered off course, no matter how thick the flak or furious the Luftwaffe fighters.  Bombardiers were automatically placed in control of the planes, and remained in charge until they spotted the target and ordered "bombs away."
This day, however, it was readily apparent to pilots and bombardiers of the 450th that there was no way to see their target.  Clouds formed a dense blanket between them and the city; bombardiers told their pilots it would be impossible to sight the Saurerwerke.  They would be bombing blindly.  The target was changed: they would strike Vienna's industrial center in the southeast corner of the city, and would rely on radar rather than bombardiers' eyes.
 As the Liberators barreled toward their target, air raid sirens were triggered in Vienna; German radar had been tracking the planes since they crossed the Adriatic.  Citizens ran to bunkers and German Army ground units took to the flak guns. Liberator gunners rotated in their turrets and scanned the skies, but saw nothing.  No Luftwaffe fighters would challenge the Americans today.  Instead, the skies above Vienna were quickly pockmarked with the dirty bursts airmen called "ack-ack" – anti-aircraft fire.
"This is Vienna," Leonard Mojica radioed to his new men, Charles Kleinhenz and Delbert Trueman, as they neared the target.  It was one of the few exchanges on the flight.  The noise and the oxygen masks made talk all but impossible.  A half-hour earlier, Mojica told them to put on flak vests and helmets, and snap their parachutes to the harnesses they wore; it was standard procedure 30 miles out from the target.  In the gun turrets, Delbert and the other men went without parachutes; there was simply no room for the bulky packs.  If needed, the chutes could be snapped on once the men crawled out of their Plexiglas bubbles.
Between the flak and the heavy cloud cover, the tightly formed attack units of the 450th began to fall apart.  Pilots held tight to the controls as flak explosions shook their aircraft; the planes pushed forward at 160 mph as flying metal pierced them.  Bob Davis always thought he was seeing a glimpse of hell on a bomb run – the thick smoke, the smell of cordite, exploding aircraft, men falling to their deaths.  As they crossed the city's industrial center, the Liberators released their bomb loads shortly before 12:30 p.m.  More than 46 tons of 500-pound bombs fell to the Earth.
Leonard Mojica's plane was in the first of two waves attacking Vienna, and was peeling its way away from the target when flak sliced into the empty bomb bay.  One of the plane's four turbocharged engines burst into flames.  Joe Marallo and Dick Conkle scrambled, snapped on their chutes and threw themselves out of the plane through the open bomb bay.  Elvin Killingsworth ran from the plane's waist to the back of the ship and struggled to open the escape hatch.  Bob Davis radioed his pilot.  "Don't jump," Mojica ordered, "I'll get you back." Davis waved at Killingsworth not to bail out.  No sooner had he motioned than the plane was hit again, harder, with flak tearing away the right wing.  The plane fell into a flat spin, rotating like a corkscrew as it drove 10 men toward the ground. 
Chaos erupted inside the ship.  While the pilots fought to control the plane from the cockpit, men and gear were flung to the tail, hurled by centrifugal forces they couldn't fight.  Delbert crawled from the tail turret and struggled to hold open the camera hatch before being thrown back to the tail.  Guns, parachutes and ammunition collided with gunners, who struggled to pry themselves free from each other and the plane; Elvin Killingsworth lay crushed at the bottom of the pile.  Junior Kleinhenz and George Webb dove to open the escape hatch in the nose.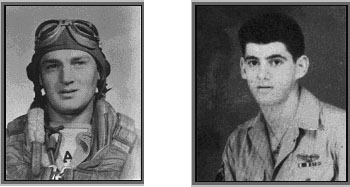 Elvin Killingsworth (left) and Bob Davis (right).
A wounded Bob Davis was spit out of the plummeting aircraft, unconscious because of an oxygen mask that had ripped away in the madness.  Richard Pinardi felt himself being sucked out of the plane; seconds earlier he'd seen a vision of his mother, cooking in the kitchen.  Falling, he pulled his ripcord and believed he'd seen his life pass before him.  A half-mile away in the sky, he was being cursed by Joe Marallo: photographers like Pinardi were bad luck to crews and sure enough, here he was, floating into enemy territory when instead he should be two missions shy of going home.  He twisted in his chute and looked around for his plane, but saw nothing.
As the Fifteenth Air Force's planes pulled away from Vienna, men watched the Mojica plane spiral out of control; they looked for parachutes.  They knew what a flat spin meant.  "Curtains for most of the crew," thought 2nd Lt. Robert Messner, a navigator from the 450th who watched the plane as it fell 8,000 feet; he saw three men bail out.  First Lt. Randall Pillsbury, the co-pilot of another plane, thought he saw five men jump; Pete Garbarini, a tailgunner who saw the Mojica plane get hit, counted two chutes.
The plane and the men tumbled east of Vienna and the Danube River, toward the hamlets of Leopoldsdorf and Rutzendorf.  The B-24 slammed into a field; amazingly, it remained intact despite the impact.  Joe Marallo drifted into a group of civilians who whisked him off to the burgermeister's house for holding.  German soldiers waiting in the potato field where they landed quickly captured Bob Davis and Dick Conkle.  When Richard Pinardi landed, it was within yards of the plane that minutes earlier had carried him five miles above the Earth.  Hobbled by flak wounds to his waist and ankle, he ran to the plane and tried to pull men from it; fire and exploding ammunition drove him back.  It was then that he saw a crumpled Delbert Trueman, dog tag No. 35900811, burned and bleeding on the ground alongside the ship.
The remaining planes from the 450th headed back for Italy and began landing at Manduria shortly after 3:30 p.m., three hours after bombarding Vienna.  As always, women from the Red Cross greeted the returning crews with hot coffee and cake doughnuts.  A few planes straggled in around 5 o'clock after stopping at other fields to refuel.  The final crew returned at 6:35 p.m.  All the time, Charlie Ward waited alongside the runway, watching for his friends from Crew 272.
That night, Lloyd White wrote in his diary like he always did.  "Raid on tank factory at Vienna.  My nose gunner Trueman and tail gunner Kleinhenz were killed.  It was hell."
In the offices of the 450th, clerks compiled reports of that day's mission.  The route was recorded, as was the attack and its results ("…a break in the clouds at bombs away permitted a fleeting glimpse of the primary target area and it is believed that bombs struck in the vicinity of the city gas works, possibly carrying over into the Saurerwerke installations.").  Twenty-eight planes took part in the run, with 24 actually making it to the target; 23 aircraft, it was noted, returned.  "One lost." 
In Vienna, Luftwaffe officers recorded the downing of six Fifteenth Air Force B-24s in the course of 15 minutes that afternoon.  The wreckage was scattered throughout Vienna and its neighboring villages.
When German soldiers reached the wreckage of B-24 No. 42-51566, they could identify only three of six men found in or near the plane: pilot Leonard Mojica, bombardier George Webb and tailgunner Delbert Trueman, who they recorded as Delbert N. Triebmann.  The six airmen would join more than 225 men, women and children listed by local undertakers as killed on October 17 in Vienna, residents such as Hugo and Monika Klimberg, Norbert and Nina Awedikow, and Konrad Schützenhofer who lived near the Danube Canal, north of the Saurerwerke. 
The citizens' bodies were taken to morgues and church cemeteries.  The remains of American airmen were transported to an isolated section of the Zentralfriedhof, Vienna's sprawling Central Cemetery.  The 495-acre park held the remains of such famous Viennese residents as Johann Strauss, Ludwig van Beethoven, Franz Schubert and Johannes Brahms.  On October 24, Luftgau-Kommando XVII, the Luftwaffe administrative command based in Vienna, ordered the burial of 37 American fliers.  The airmen were placed in simple wood coffins, stacked three in a grave.  A week before his wife was told he was missing in action, Delbert's body was lowered into the ground and marked with a wooden cross.
The Waiting
Walking home from school for lunch, Judy Trueman was excited.  It was Halloween, and she would be changing into her costume for a party that afternoon with her second-grade classmates. As she turned the corner and looked up the street, an odd sight struck her.  Her grandfather was standing on the front porch of her house.  That made no sense, she thought, because he should be at work.  "Something's wrong," her mind raced.  "Something's wrong with Daddy."
Virginia had sensed the same, only for several days.  She typically received a letter from Delbert every other day, and 10 days had passed with no mail from Italy.  That morning, as she washed her hair, her feelings were confirmed when a young man from Western Union pulled up to the house on his bicycle.  Handing her a telegram, his face alone conveyed bad news.
"The Secretary of War desires me to express his deep regret that your husband Corporal Delbert W. Trueman has been reported missing in action since seventeen October over Austria.  If further details or other information are received you will be promptly notified."
Her first thought – and one she would maintain for months – was that Delbert had been captured and was being held in a prison camp.  Later that night, after the school party, she told Judy her father was missing in action.  The next morning's newspaper reported that he was missing, as were two other Marion men, one lost in southern France and the other shot down somewhere over Yugoslavia.  Corporal Trueman, the paper stated erroneously, was missing over Australia.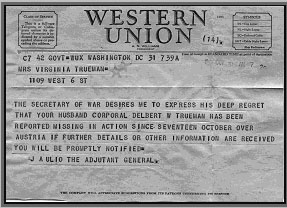 The telegram informing Virginia that Delbert was missing in action
In 1944, one in four men assigned to combat with the 450th Bomb Group ended up missing in action; nearly half of the group's planes were lost in action.  Three days after their mission to Vienna, Delbert and his crewmates were struck from the rolls of the 450th and classified MIA.
Telegrams about the airmen began arriving at homes across the country.  Three went to California: in Los Angeles, Leonard Mojica's mother was told that her only child, a boy she alone had raised to be an altar boy and then a pilot, was missing; 90 miles north in Madera, Mabel Killingsworth heard the same about her 20-year-old son, Elvin; Arthur and Nina Webb received the news about their red-headed boy, George, at their Stanford University home.  Co-pilot Marvin Niederjohn's father was notified in Laramie, Wyoming.  In Nunda, New York, Charles Kleinhenz went crazy with upon hearing that his namesake and only child was, apparently, gone at age 19.
After receiving the telegram that her husband was missing, Virginia drove to the local office of the American Red Cross and asked if they could help locate Delbert.  It was not unusual for Italian-based air crews to bail out of disabled planes and parachute into the safekeeping of Yugoslavian partisans; the 450th saw it happen all the time, with men returning to the base months after disappearing in the sky.  They'd walk into camp, longhaired, unshaven and grinning.  The Red Cross also helped track down men who were captured by the Germans and taken prisoners of war.  Virginia was confident Delbert safely escaped his plane's downing; he'd gone through too much training to not survive.  He was too young and too active to be anything but alive.
A letter from Lloyd White, who a month earlier told his diary that Delbert was dead but now wrote to encourage the gunner's wife, reinforced her faith.  He told of watching the Mojica plane go down carrying his two gunners, Delbert and Junior Kleinhenz.  "It wasn't burning and not too much to get alarmed at except it was leaving the formation," he wrote.
"Ninety-six percent of the crews who were in conditions similar to this ship get out.  Some of them return to base found by partisans, the others are picked up by the Germans and put in prison camp.  Some are found by partisans and they have to stay in the mountains with them for months and no one hears from them for a long, long time and then when the allies capture the land, they show up. 
"I sincerely believe that they are both alive in Yugoslavia or in a prison camp.  I told my mother if they ever sent her word of missing in action, just figure I am in Switzerland or with the partisans in Yugo for that is where we would go.  Del was one of the best boys I have ever been connected with and so was Junior."
The War Department assured her of the same.  MIA status indicated neither a closed case nor death; in fact, she was told, men typically became prisoners of war without Germany or Japan notifying the U.S. government.  She regularly received letters from different branches of the War Department, each delivering slivers of information about Delbert and his mission.  They indicated a search for the missing men was under way.  Despite her requests, officials citing military security declined to tell her the names of the other men on the plane or those of their families.  Within a month of Delbert's disappearance, the International Red Cross said it had still had no word that he was a POW.
Judy received a sympathetic note from a schoolmate, who used a crayon to print, "I am sarre about your father."  None of her playmates had fathers in the service. Virginia began attending church.  She and Delbert had visited the local Methodist church a few times in their marriage, but now she was a regular worshipper.  Along with struggling with the uncertainty of her husband, she was losing the other man in her life to cancer.  Her 51-year-old father died in early December, three weeks before Christmas and six weeks after Delbert's disappearance.  It was suddenly a house bereft of men: Virginia survived with her daughter, mother and pregnant sister, whose husband was also overseas in the service.  Even the family dog was a girl.
The new year brought no real news.  Virginia wrote letters: to the Red Cross, the War Department, members of Congress, the chaplain of Delbert's bomb group.  All expressed regret and sympathy; none had the details she sought.  "We shall not give up hope that Delbert was able to escape from the ship.  Until we are in possession of more information than we are at the present time, we shall not abandon hope," wrote Capt. John H. Keefe, who ministered to the 450th Bomb Group.  "May God give you the courage bravely to face each day."
Packages that Virginia had mailed to Delbert when he shipped to Italy were returned sporadically and unopened; they held cookies, cigarettes, cheese, poker cards, shaving cream and mystery novels, all intended as Christmas presents.  The 450th also returned his personal belongings, including a worn leather wallet.  It contained Algerian francs and Italian lire, his Indiana driver's license and a worn newspaper clipping that paid tribute to his brother Dale.  It also carried several black-and-white snapshots of Virginia and Judy; one was tucked behind its plastic sleeve along with a dried four-leaf clover.
On May 7, Germany surrendered to the Allies; Adolf Hitler had committed suicide a week earlier as American and Russian troops closed in on Berlin.  President Harry Truman, in office for all of a month after Roosevelt's death by stroke, declared May 8 Victory in Europe Day.  The United States erupted in celebration. Marion Mayor Edward Wert asked all of the city's businesses to close for the day; bars shut their doors, school was cancelled and churches held special services.  As of V-E Day, 154 men from Marion and surrounding Grant County had been killed in the war; those missing in action like Delbert were not counted as casualties.
The 450th Bomb Group knew V-E Day was coming; they hadn't flown a mission in two weeks, having been declared unoperational after joining other Fifteenth Air Force groups in knocking out all of their targets.  Among their spoils was Vienna, now the second-most heavily bombed city in Europe outside of Germany's ravaged Dresden. "Vienna will not bring memories of waltzes and rhythmic music to the crews of the 450th.  A trip up there means only accurate, heavy and intense flak from 329 guns," an officer wrote.  Within four days of V-E Day, men began streaming out of Manduria and onto transport ships headed for home.
German POW camps were also emptying.  The four airmen who plunged from Leonard Mojica's plane – Bob Davis, Joe Marallo, Dick Pinardi and Richard Conkle – were liberated after months of solitary confinement, meager rations and a grueling forced march that stretched nearly 500 miles.  They were deloused, showered and given a fresh set of clothes for the trip home.
While the homecoming of prisoners of war brightened thousands of families' lives, it brought a morbid finality to others.  Men like Delbert Trueman and Junior Kleinhenz were nowhere to be found on the rolls of liberated prisoners.  While their mothers and wives awaited good news, the War Department – now armed with firsthand combat accounts from the POWs – had little option but to declare the missing men as killed in action.  Virginia was informed in August 1945, the day before Japan surrendered and World War II came to an end; a Purple Heart honoring her husband would be mailed shortly.  The War Department told her that a survivor of Delbert's plane reported seeing him jump from the burning ship without his parachute.  On the ground, German soldiers were seen taking personal belongings from his body.
She also received a letter from Bob Davis, the gunner and former POW who had tried to calm Delbert prior to his first mission.
"Now about your husband," he wrote from a military hospital where he was recovering from injuries received in parachuting from the plane.  "The cameraman was the last one to leave the ship and he landed right next to it.  He went over to see if there was anything he could do.  It was then that he saw your husband beside the ship without his parachute.  He told me of this when we got together in prison.  We talked it over to decide how it happened and both believe that he fell out of the ship and did not jump as you say.  If it's any help to you the cameraman said that your husband didn't have a mark on him and must of died quick."
What none of the families had were the remains of their husband, son or brother.  No one – relatives, ground troops, former crewmates – knew where, or even if, the men were found.  Families were in a suspended state, told to grieve for a loved one they could not see and who maybe, possibly, was still alive.
 "I cannot resign myself to the fact that my son has actually been killed," wrote one gunner's mother.  "I believe that if I could secure some tangible information or proof that he is actually deceased that it would help both myself and my family.  Can you give us any definite information to substantiate his death and is there a record of a grave?"
Finding and identifying bodies was the job of the American Graves Registration Service, a branch of the Quartermaster General activated in the days following the attack on Pearl Harbor.  With the war now over, AGRS personnel in Europe were told there were more than 44,000 soldiers and airmen reported missing in action.  Another 108,000 servicemen had been reported killed and buried in Europe.  The AGRS would scour deserted battlefields, crash sites, villages and local cemeteries; they would interview civilians and undertakers and captured German soldiers for any information about buried Americans.  They would locate the graves, exhume the bodies and see that they were properly buried in U.S. military cemeteries or any other location selected by the next of kin.  They were told that seven of 10 American families would want their relatives' bodies returned home. 
Between Europe and the Pacific Theater, the government expected to return 300,000 bodies at a cost of $210 million.  The AGRS would not begin searching for bodies until six months after the war's end, due in part to a lack of caskets.  There simply wasn't enough steel to manufacture the lightweight coffins needed by the military.
It was July 1946, more than a year after V-E Day, before a Quartermaster unit reached Vienna.  The responsibility for sweeping Austria fell to the 538th Quartermaster Group, a group of 10 officers and 35 enlisted men; they would be given additional help from 120 men of the 612th Quartermaster Graves Registration Company.  They approached Austria having already covered thousands of square miles in France and southwestern Germany and using German POWs to help at times with the exhuming of bodies.
Once inside the Vienna Central Cemetery, the Graves Registration team found Plot 88, a rectangular tract holding American airmen, along with dozens of POWs from France, Italy, Russia, Yugoslavia, Serbia and Rumania.  There were 341 bodies in all, 198 of which were American airmen.  Less than half of the fliers could be identified. 
For the next month, the soldiers methodically made their way through Plot 88.  The coffins held clues to their occupants' identities: dog tags, teeth, swatches of flying coveralls, bones.  The remains, sometimes weighing no more than 10 or 20 pounds, were often indistinguishable, amputated and charred beyond recognition.  Graves Registration teams were helped in part by a handful of records left at the Zentralfriedhof by the town burial commissioner; fliers' names, often misspelled, their service numbers and their gravesites were recorded on the pages.   At the far edge of Plot 88, in a row designed to hold 35 graves, records indicated the last cavity held one Dellert N. Treibmann, Army serial no. 3590081.  On August 7, 1946, American soldiers exhumed and retrieved the body of Delbert Wayne Trueman.
His coffin shared its dark confines with those of two other airmen, Sam Holquin, 25, of Los Angeles, and 21-year-old Kirk Mosher, from Albuquerque, New Mexico.  The two, sergeants with the 451st Bomb Group, had been killed four days before Delbert in a mission eerily similar to his.  After dropping its bombs on Vienna, their plane was hit by flak in the bomb bay and right wing, which burst into flames.  Several men parachuted from the burning ship and became German POWs.  Others were trapped in the plummeting ship.  Like Delbert, Sam Holquin was a tailgunner; like Delbert, Kirk Mosher was on his first mission when he died, mortally wounded by flak.
The Mojica crew's bodies were scattered in the cemetery.  Leonard Mojica's body rested 12 sites away from Delbert; between the two was the grave of George Webb.  The bodies of Elvin Killingsworth, Marvin Niederjohn and Charles Kleinhenz were among those the AGRS could not identify, at least not in Vienna.  Remains were given labels such as Unknown X-7122 and X-7111.
The news was not shared with families.  All they were told was Graves Registration units were sweeping Europe.  It was the fall of 1946 and into 1947, well after AGRS troops left Vienna, before families were notified the bodies of their husbands, sons and fathers had been found and given proper burials.  Delbert's remains, his family learned, were interred in St. Avold in northeastern France, where the AGRS had established one of its nearly 210 temporary military cemeteries after the war.  A week after being recovered in Vienna, bodies were flown to France; there they would remain until American families could be notified and asked where they wanted their loved ones to be permanently laid to rest.  Bodies could remain at St. Avold, be moved to any other U.S. military cemetery or be sent to a private cemetery.  Each body would be buried under a simple white marble cross or Star of David.
Where to bury Delbert's remains was a decision left to his parents.  Months after being told by the government and the liberated POWs that Delbert had died in the crash, Virginia accepted the reality of his loss; it was time to move on with her life.  Friends introduced her to a Navy lieutenant, a teacher who'd spent four years in the service before returning home to Grant County.  They started dating in early 1946 and became engaged later that year.  Before they wed, Virginia talked with Delbert's parents, who said if they had to choose another father for Judy, her fiancé would be the man.  They approved.
Another two years would pass before the first bodies started coming home.  For some families, the delay was excruciating.  In Los Angeles, Juanita Harding told the War Department it felt like she'd been waiting a thousand years for the return of her son, Leonard Mojica.  "There is only my boy, my mother and myself.  Will you please tell me how I go about bringing my baby home or whom I should see and so on.  Is there a charge to bring the bodies back, if so how much.  We only have a house trailer that we live in but we will sell it to get money to bring Leonard home.  We just must bring him home.  It will help Mother and I more than I can explain to have him where we can see and visit his grave."
On the other side of the country, a deranged Charles Kleinhenz Sr. refused to believe the boy they called Junior was dead.  Long after being told Charles Jr. was killed in action, his father changed his will and left everything to his dead son.  He frequently carried a rifle, and threatened to kill Red Cross workers who stopped at his upstate New York house.  His wife, fearing for her life, went along with his rants that their son was alive.
In Marion, Paul Trueman told the government he wanted his son's body returned to Indiana.  In May 1948, Delbert began his final journey home.
Homecoming
It was an eight-month trip from St. Avold to Marion.  Once disinterred, Delbert's sealed casket traveled by train from France to Antwerp, Belgium, where soldiers' bodies were stored in tight rows for transfer home on Liberty ships.  Caskets remained shrouded in American flags until loaded onto vessels.  On December 7, seven years after the attack on Pearl Harbor spurred American men to fight, Delbert's ship departed.  The hold filled with caskets wasn't the only evidence of the war's wrath; the SS Barney Kirschbaum itself was named for an American merchant marine killed when a German U-boat torpedoed his freighter in 1943.
Of the 16 million Americans who served in World War II, nearly 300,000 were killed, with 171,000 shipped home for burial at the request of their families.  It would take the military six years – until 1951 – and the largest reinterment effort in its history to return the dead to the United States.
The SS Barney Kirschbaum crossed the Atlantic and docked at the U.S. Army's New York Port of Embarkation, arriving just days after New Year's celebrations welcomed 1949.  Years earlier, 3 million soldiers streamed out of the port for overseas battlefields.  Now, dead soldiers' remains were quietly shipped to Army depots and then cities and villages throughout the country.
A train carrying Delbert's remains pulled into Marion on January 27, escorted by an Army staff sergeant who would stay with the body until its burial the next afternoon.  The body of another Marion man, Pfc. Robert E. Beard, was also in the baggage car; the 19-year-old was killed five years earlier in Saipan.  The remains of a third soldier, Staff Sgt. Charles M. Garrison, were arriving the next day; his Eighth Air Force bomber was shot down on Christmas Eve 1944.  The three Marion soldiers were to be buried over the next 48 hours.  It was a busy time for the American Legion's Byron Thornburg Post 10, whose veterans would provide a color guard and military honors for each funeral.
 The soldiers' return received quiet mentions in the paper.  News in town was of cars and basketball.  The head of Crosley Motors announced vehicle production would be doubling in 1949, with five new models coming out of Marion's assembly plant.  At Memorial Coliseum, the Marion Giants were struggling to win as they languished in the basement of their conference.  Orville Hooker, who coached Delbert and the boys' team to titles in the early '30s, was now the superintendent of Marion schools. 
Talk of World War II was fading.  A new enemy was on the rise, as the editors of the Marion Leader-Tribune warned of a growing confrontation with Russia.  "Five years ago it was said that Russia would not have an atomic bomb 'until 1950.'  Since then it has been said that if war comes, it will not come until 1950 or 1952 or 1955.  Five years ago those dates seemed safely remote.  Now they are almost upon us."
At the Raven Funeral Home, flowers filled the chapel for Delbert Trueman.  Arrangements arrived from his old employer, from colleagues and cousins and uncles.  The local chapter of the American War Mothers sent a bouquet.  Judy talked with the soldier who escorted her father's body; her teacher had softly excused her from school for the afternoon.
As they did five years earlier at the funeral for Dale Trueman, Delbert's parents and two sisters sat in the front row.  It had been 12 months since they'd filled out the paperwork asking that Delbert's body be sent home; just before Christmas 1948 they were told his casket was, truly, en route to the United States and they should begin making funeral and burial plans.  Despite Delbert's status of missing and later killed in action, neither Virginia nor his parents felt there should be a memorial service or funeral.  It made no sense without a body.  Now, a flag-draped casket before family and friends, it was time to say goodbye.  Guests held tiny red, white and blue memorial booklets bearing a gold star and a scripture verse. 
Later, at Grant Memorial Park on the western edge of Marion, a bugler blew taps.  Delbert Trueman was buried alongside his brother, Dale.
When he was stationed in Texas in the spring of 1944, Delbert wrote Judy to say he was sending her a package.  It was a few days after Easter, and he was feeling particularly optimistic.  He suspected Judy was the "cat's ankle on Easter … all dressed up in your new clothes and all."  He missed spending the holiday with her and Virginia.  "Maybe next Easter, huh?" 
The box he planned to ship, he wrote, was filled with letters and postcards.  He told Judy to give it to her mother for storage.  "She can keep them somewhere," he wrote, "so that you, she and I can sit down and read them sometime when this old war is over."
Epilogue
Pilot Leonard T. Mojica is buried in Holy Cross Cemetery in Los Angeles.  His co-pilot, Marvin Niederjohn, is buried in Jefferson Barracks National Cemetery in St. Louis, Missouri.
The body of bombardier George E. Webb remained in St. Avold, France, after being recovered from Vienna.  He is buried in Lorraine American Cemetery.
Gunner Elvin R. Killingsworth is buried in Golden Gate National Cemetery in San Bruno, California.  He is honored on the Madera County War Memorial in Madera, California.
Gunner Charles Kleinhenz Jr. is buried in Ardennes American Cemetery in Neupre, Belgium.  His remains were the last of the Mojica crew to be permanently interred, in part because of his father's refusal to sign the paperwork indicating where his son should be buried.  The VFW Post in Nunda, New York, carries his name.
~
Once liberated as a prisoner of war, gunner Richard L. Conkle returned to his home along Virginia's Rappahannock River.  Filling out a military questionnaire after his release, he was asked to describe the situation in the B-24 as it went into its spin.  "Everyone was frightened," he scrawled.  He died in 1980 at age 56.
Engineer Joseph J. Marallo survived prison camp, returned home and married.  A father and grandfather, he retired after a career as an engineer.  He died in 1995 at age 72.
Photographer and former POW Richard J. Pinardi re-enlisted after being liberated in Germany and served in the Korean War.  He lives in Massachusetts, where a room in his home is dedicated to World War II.
Radio operator and gunner Robert A. Davis lives in upstate New York with his wife.  He is the former historian for the 450th Bomb Group Association.
Lloyd F. White, pilot of Delbert Trueman's original crew, flew 50 missions with the 450th Bomb Group and received the Distinguished Flying Cross.  He returned home to become a farmer, teacher, counselor and coach.  He died in 1994 at age 78.
~
In 1946, Virginia Trueman married Joseph Russell Smalley, who adopted her daughter Judy.  Two more children, a boy and a girl, were added to the family.  Virginia and Russell were married 47 years until his death in 1993.  Today, Virginia Smalley lives in Indiana.  She is the grandmother of six and great-grandmother of five.
Judy Trueman Smalley graduated from college, married the news editor of the Marion Chronicle and taught school.  She raised four children.  During the Vietnam War, she and her children wore silver bracelets bearing the names of Americans who were prisoners of war or missing in action.  When the first POWs were released in 1973, she kept her children home from school to watch the televised homecoming.
BIBLIOGRAPHY
34th Bombardment Group (H) 1941-1945. Turner Publishing Company, 1988.
450th Bomb Group (H): The "Cottontails" of WWII.  Turner Publishing Company, 1996.
Anders, Steven.  "With All Due Honors…" Quartermaster Professional Bulletin, Autumn/Winter 1994.
Atlas of the World at War.  World Publishing Company, 1942.
Banny, Leopold.  Dröhnender Himmel, Brennendes Land: Der Einsatz Der Luftwaffenhelfer in Österreich 1943-45.  Österreichischer Bundesverlag Gesellschaft, 1988.
Birdsall, Steve.  The B-24 Liberator.  Arco Publishing Company, 1968.
    ______.  Log of the Liberators: An Illustrated History of the B-24.  Doubleday & Company, Inc., 1973.
Bowman, Martin W.  The B-24 Liberator 1939-45.  Rand McNally & Company, 1979.
    ______. USAAF Handbook 1939-1945. Stackpole Books, 1997.
Carter, Kit C. and Robert Mueller.  The Army Air Forces in World War II: Combat Chronology, 1941-1945.  Office of Air Force History, 1973.
Cavnes, Max Parvin.  The Hoosier Community at War.  Indiana University Press, 1961.
Cubbins, William R.  The War of the Cottontails: Memoirs of a WWII Bomber Pilot.  Algonquin Books, 1989.
Davis, Larry.  B-24 Liberator in Action.  Squadron/Signal Publications, 1987.
Flight Manual for B-24 Liberator.  Aviation Publications, 1942.
Get That Fighter.  Army Air Forces, 1943.
Graves Registration. Technical Manual No. 10-630.  War Department, September 23, 1941.
Hess, Gary R.  The United States at War, 1941-45.   Harlan Davidson, Inc. 1986.
Johnsen, Frederick A.  Consolidated B-24 Liberator.  Specialty Press Publishers, 1996.
Kidder, Warren Benjamin.  Willow Run: Colossus of American Industry.  KFT, 1995.
Leopard, Donald D.  World War II: A Concise History.  Waveland Press, 1982.
Liberator.  General Dynamics Corporation, 1989.
Maguire, Jon A.  Gear Up! Flight Clothing and Equipment of USAAF Airmen in World War II.  Schiffer Publishing Ltd., 1995
McGuire, Melvin W., and Robert Hadley. Bloody Skies: A 15th AAF B-17 Combat Crew: How They Lived and Died.  Yucca Tree Press, 1993.
The Officer's Guide.  Military Service Publishing Company, 1943.
Perkins, Paul and Michelle Crean.  The Soldier: Consolidated B-24 Liberator.  Howell Press, 1994.
Perret, Geoffrey.  Winged Victory: The Army Air Forces in World War II.  Random House, 1993.
Pilots' Information File: The Authentic World War II Guidebook for Pilots and Flight Engineers.  Schiffer Publishing Ltd., 1995.
Rickett, Richard.  A Brief Survey of Austrian History.  Georg Prachner Verlag, 1966.
Schuyler, Keith C.  Elusive Horizons.  A.S. Barnes and Company, 1969.
Shomon, Joseph James.  Crosses in the Wind.  Stratford House, Inc. 1947.
Steinbeck, John.  Bombs Away: The Story of a Bomber Team.  Viking Press, 1942.
Steere, Edward.  The Graves Registration Service in World War II.  Q.M.C. Historical Studies, 1951.
Sulzberger, C.L.  World War II.  Houghton Mifflin Company, 1985.
Tuttle, William M. Jr.  Daddy's Gone to War: The Second World War in the Lives of America's Children.  Oxford University Press, 1993.
Verrier, Anthony.  The Bomber Offensive.  The MacMillan Company, 1968.
Vezzano to Desert Storm: History of the Fifteenth Air Force: 1943-1991.  U.S. Department of the Air Force, 1991.
Werrell, Kenneth P.  "Friendly Rivals: The Eighth and Fifteenth Air Forces in World War II."  Air Power History, 1991 38(2).
Winkler, Allan M.  Home Front U.S.A.: America During World War II.  Harlan Davidson, 1986.
Your Body in Flight: An Illustrated "Book of Knowledge" for the Flyer.  U.S. Army Air Forces, 1943.
ORAL HISTORIES/INTERVIEWS
Clarke, Judith A.
Daughter of Delbert Trueman.
Davis, Robert A.
450th Bomb Group.  Survivor of 42-51566 downing.  POW.
Garbarini, Peter
450th Bomb Group.  Witness of 42-51566 downing.
Kitzman, Richard
450th Bomb Group Crew 272.
Marallo, Joseph J.
450th Bomb Group.  Survivor of 42-51566 downing.  POW.
Messner, Robert M.
450th Bomb Group.  Witness of 42-51566 downing.  POW.
Perkins, Floyd
450th Bomb Group.
Pinardi, Richard J.
450th Bomb Group.  Survivor of 42-51566 downing.  POW.
Smalley, Virginia A.
Wife of Delbert Trueman.
Ward, Charles
450th Bomb Group Crew 272.
White, Bess
Widow of Col. Lloyd White, 450th Bomb Group Crew 272.
MILITARY RECORDS
Missing Air Crew Reports
No. 9047 – B24-J 42-51764
No. 9215 – B24-J 42-51566
No. 12262 – B24-J 42-51401
Individual Deceased Personnel Files
Elvin R. Killingsworth
Charles Kleinhenz
Leonard T. Mojica
Kirk G. Mosher
Dale J. Trueman
Delbert W. Trueman
George E. Webb
Morning Reports
721st Bomb Squadron, 450th Bomb Group
Monthly History
721st Bomb Squadron, 450th Bomb Group
German Luftwaffe
Funeral orders/burial records
Vienna military units
Vienna flak command
OTHER RECORDS
Davis, Robert
Written account of 42-51566 downing
Trueman, Dale
Wartime letters to family
Trueman, Delbert
Military records
Wartime letters to family
Photographs
High school scrapbooks, newspaper clippings
High school yearbooks
White, Lloyd
WWII diary
Yankee Air Museum
WWII Liberator production records (Ford Motor Co.)