His Day Off
The Military History of S/Sgt. Adam E. Wood
By Mark A. Wood
Adam Wood could have been content teaching school during World War II, but he decided to help defend his country by joining the United States Army Air Force. This story begins with his enlistment in the military and covers his intensive training to become a waist gunner on a B-24. It concludes with his 14 months held by the Germans as a Prisoner of War.

In The White House -

In 1917, Samuel "Doc" Pleasant Wood and his wife, Rose, got a Christmas present that was one day late. That present was a baby, Adam Wood. Born on December 26th, he was the youngest of seven children.

"Doc," as he was known, owned 303 acres on Dry Ridge in northern Lawrence County, Ohio. He worked as a railroad tunnel watchman and also did some farming. Adam's mother, Rose (Bruce) was a housewife. They lived in a white farm house which was called the "White House" by all the neighbors.

While attending grade school, one teacher asked the students their middle names. Adam didn't have one so he dubbed himself Adam 'Emerson' Wood to prevent any embarrassment.

He graduated from Washington Rural High School, then Rio Grande College. He completed an aviation course while attending Rio Grande and also had credits from the Ohio University and Louisiana State.

His first teaching job was in Lawrence County. He taught there for four years and had just started teaching in Jackson County when he decided to enlist. Wood was teaching students in grades 1-8 at Peach Orchard School, located on a hill near Lake Jackson, Oak Hill, Ohio.
"He loved his work and children, but felt he wanted to do his part to keep America free."

The Ironton Evening Tribune news article about Wood joining the service.
Joining Up - On November 4, 1942, he entered the United States Army Air Force. His service number was: 15448627. The first few days in the military were spent clearing and "grubbing" brush with a maddox at Fort Thomas, Kentucky.
"One evening, we didn't have much of anything to eat and I can remember one guy who was chewing up razor blades and then spitting them out."
It was then on to basic training at Atlantic City, New Jersey, better known as "Camp Boardwalk." While there, he attended the 926th Technical School.
"When I got to Atlantic City, they said that Roy Rogers had just been there. I also remember us moving a lot of mattresses around. There were so many mattresses in our hotel barracks that we slept on two at a time."
Following basic training in early 1943, he made the grade of Private First Class while a member of the 802nd T.S.S. squad at Morrison Field in West Palm Beach, Florida.
From there, he was transferred to Seymour Johnson Field in Goldsboro, North Carolina. It was here he graduated from airplane mechanics school. He was also an instructor for a short time. As an instructor, he enjoyed ordering the officers in the room to sweep up after class.
"I found a piece of metal while in North Carolina and thought it would make a nice finger ring. In order to polish it, I rubbed it under my foot while teaching class, making sure no one could see what I was doing."
Makes Sergeant - He then attended flexible gunnery school that summer at Buckingham Army Air Field, Fort Myers, Florida. He graduated and received his wings. Wood was promoted to Sergeant on August 3, 1943.
During this time, he sent a postcard home titled: Greetings From Florida, The Land of Sunshine. Wood writes: "This card leaves me fine and sun burned, but will get over it."
Sgt. Wood then went to Kansas, and on to Salt Lake City, Utah. He was with the 302nd Bomb Group, 356 Bombardment Squad while completing a course at Clovis, New Mexico in August, 1943.
In September of 1943, he was assigned to the 450th Bomb Group and attached to the 722nd squadron in Alamogordo, New Mexico. This is where he completed his advance training and flying time, qualifying for flying Class 3.
At the end of training, they went to Kansas where they received the final clothing allotment and shots for overseas service. They then flew to Morrison Field in West Palm Beach Florida.
"I don't know why, but they gave us backpacks full of fishing type of equipment, but they gave us different backpacks before leaving."
Headed overseas - Then on November 29, 1943, Wood was given orders to fly overseas. They went by the Southern route, going through South America then to Dakar, Senegal on the west coast of Africa, then on to Marrakech, Morocco.
"When we were in South America, some of the guys bought monkeys. They didn't last long on the planes. I can still see the monkeys flying in mid-air. And in Africa, I can remember seeing white crows and African children getting food from the Army garbage cans."
The crew arrived after more than 50 hours of flying to their home base at Manduria, Italy, on December 23, 1943. Wood was in the 15th Air Force, in the 722nd "Holy Joe" squadron of the 450th Bomb Group.
He was assigned to the plane (#42-52141) named: Termite Chaser #1. The name was taken from a character in the comic strip Li'l Abner. This B-24 Liberator was built by Ford in their Willow Run, Michigan plant.
Because of the white tail markings on their planes, members of the 450th Bomb Group were known by Germans as the "Cottontail Bombers." Staff Sergeant Wood flew on several bombing missions as a waist gunner.
"When we weren't shooting at something, it seemed we were always throwing silver tinsel (chaff) out the plane's door. This helped confuse the German's radar."
"His Day Off" - On February 22, 1944, Wood had the day off. But, instead of sleeping in, he volunteered to fly with another crew that day. The reason, the more missions you flew, the sooner you could return back to the states.
The plane that Wood took that day (#42-7714) was named the "Gallopin' Ghost." Their target was the Obertraubling Aircraft Factory at Regensburg, Germany. This was a Messeerchmitt airplane assembly complex that manufactured the ME-109 German fighter planes.
However, this was the beginning of "The Big Week." This historic week was an intense campaign of heavy bombers that hit 26 aircraft factories from February 20-25. A total of 3,300 planes were dispatched that week from England and 500 from Italy.
The 450th Bomb Groups sent 42 B-24's that day. A total of 29 dropped on target and 5 jettisoned in the Graz area. Each plane was loaded with 500 pound general purpose bombs.
However, the barrage flak sent up by the Germans was intense and accurate. More than half of the B-24's were attacked by the German fighter planes. Three B-24's were shot down over the target area and one crew bailed out.
According to witnesses in other planes, the "Gallopin' Ghost" was attacked by German ME 109's, lost altitude and then regained control. The plane appeared to be turning back with smoke pouring out. It disappeared into the undercast, followed by an enemy aircraft. The time was 1:13 p.m., the altitude was about 22,000 feet and the coordinates were 48°20"N - 12°50"E. They were just three minutes from reaching their target.
Most of this information was obtained from the U.S. Air Force's Missing Air Crew Report #2694.
The German pilot, believed to be the one who shot down the "Gallopin' Ghost," was Oberleutnant (1st Lt.) Eberhard Bock. He was an instructor pilot in a combat training wing and shot down 28 aircraft during World War II. Bock was born in 1917 and killed in action on May 28, 1944. These details were provided by Günther Wagner, who currently lives near Regensburg, Germany.
According to the MACR #2694, there were 10 men on the "Gallopin' Ghost" on February 22, 1944. Those that bailed out when the plane was shot were: SSgt. Adam E. Wood, right waist gunner; SSgt. Paul R. Drury, left waist gunner; and 2nd Lt. Phillip Kraus, co-pilot. There were seven bodies found in or near the plane crash site near Straubling, Germany.
"I put on my parachute and jumped out the waist gunner door. I free-fell for some time, trying to find the ripcord. The problem was, I had the parachute on wrong, that's why I couldn't find the cord."
Captured -

On the way down, he thought he was going to land in water, but the dark area he saw was actually trees. Landing in a forested area, Wood was injured by a tree limb. It jabbed him near the eyebrow. There was much snow on the ground and it wasn't long before he was captured and taken to a local jail.






"There were a couple of Germans who took me up to a house that had an old cow in the adjoining room. The first thing one of them did was to unzip a pocket in my pants leg and take out the $20 bill."
After a few days, Wood ended up at Dulag Luft, a processing center for Prisoners of War in Frankfurt, Germany. He was questioned here by the Germans and also a woman who claimed she was from Cincinnati, Ohio.
Stalag Luft 6 - In late February of 1944, he was sent by railroad box car to Stalag Luft 6. The trip took several days to reach this Prisoner of War camp, built specifically for non-commissioned air crewmen. The location of the camp was near the small East Prussian village of Heydekrug, 40 kilometers northwest of Tilst.
On July 14, 1944 the Germans began evacuating Stalag Luft 6 to prevent the advancing Russian forces from liberating the camp. The 5,000 men were taken to the Baltic Sea port of Memel, then jammed into the holds of dilapidated coal steamers. The crossing of the Baltic Sea took more than two days with very little water or food. When they arrived at Sweinemunde, the POWs were unloaded and marched to cattle cars that took them to a rail station near Stalag Luft 4. At Gross Tychow, Poland, they were handcuffed and forced to run more than 3 kilometers. The next day they were driven through a gauntlet of armed guards and guard dogs to their new home at Stalag Luft 4. They were searched and had most of their possessions taken from them.
Stalag Luft 4 - This Prisoner of War camp was located at Gross Tychow, Pomerania, about 20 kilometers south of Belgrade. There were five compounds separated by barbed wire fences. Much of this information about Stalag Luft 4 was found on the website: http://B24.net.
During his stay at Stalag Luft 4, Wood received a letter that his wife, Abbie Bradshaw Wood, had died on September 24, 1944.
The "Death March" - The Russian offensive was threatening to engulf Stalag Luft 4. So, on February 6, 1945, about 6,000 prisoners were ordered to leave the camp with only a few hours notice. This was the beginning of the infamous "Death March".
"The weather was as a whole fair. There was one guard for every 25 POWs. We marched for 53 days, rested 21 days, averaging 20 kilometers (12.5 miles) per day, for a total of 550 kilometers (342 Miles)."
It was a march of great hardship. The men lived in filth and slept in open fields or barns. Clothing, medical and sanitary facilities were inadequate. Hundreds of men suffered from malnutrition, exposure, trench foot, exhaustion, dysentery, tuberculosis and other diseases.
"We only had 106 grams of bread, 11 grams of oleo, 34 servings of potatoes, 20 servings of soup, one tenth of a can of meat and 20 grams of wurst. Other foods, such as milk, fowls, eggs, grain and vegetables were stolen along the road at houses and barns. We raided milk wagons and any vehicle that contained food. Salt was also taken from the cattle. We went without food for a week at a time, water for 4 days."
The initial portion of the march ended March 30, 1945, near Hanover, Germany. It was here that Wood complained to the Germans that he couldn't march any further.
"My excuse that I couldn't march was solid enough to have me held back."
Many of the men were then forced to make a second march that doubled back on their earlier route. The "Death March," from beginning to end, spanned 86 days over an estimated 600 miles. Approximately 1,300 POWs perished from disease, starvation or at the hands of the German guards.
In the Hannover area, Wood was billeted in a theater for two weeks. He was then deloused and moved to the convalescence lager at Stalag 11B.
Stalag 11B - This POW camp was located in Fallingbostel, Germany. It was a huge complex and probably formed the largest POW camp in Germany. Wood had only been in Stalag 11B for about a week when the "Great Day" came at 9 o'clock on the morning of April 16, 1945.
Following a battle that day, approximately 10,000 Prisoners of War were liberated at Stalag 11B by the British. The 7th Armored Division was led by Field Marshall Montgomery's "Desert Rat" Tank Corp.
"When we were liberated that day, many of us raided a nearby warehouse. I picked up several souvenirs, like cigarette lighters and some silver bullets. I remember going down a slide from the upper floors of the building all the way down to the ground floor."
Wood left Stalag 11B at 3:45 p.m. that day by truck and arrived in Sulingen, Germany that evening. He was served his first good meal in 14 months: corn beef, rice, raisins and tea.
On April 20th, he took a C47 American transport plane and landed in Brussels. The next day he left Brussels by box car and arrived in Namur, Belgium. He bought postcards and went to a movie. From here he traveled to Camp Lucky Strike, a rehabilitation camp near Le Havre, France. He was issued $20.10 in Belgian francs from the Headquarters RAMP, Channel Base Station, ETOUSE.
He waited here for one week and was then ferried to a Liberty ship, the George Washington Carver. The voyage began on May 3rd and landed in New York on May 15th.
"The food on the ship was very good and the sea was very rough. When I brought my war souvenirs aboard ship, an officer confiscated my silver bullets."
Back In The States - Following his arrival, he was sent to Camp Kilmer at New Brunswick, New Jersey, for two days. Wood was given a 60 day furlough and returned home to spend time with his mother.
He reported back to duty to the Army Air Corp Redistribution Station #2 in Miami Beach, Florida. Wood was here for a short time and billeted at the Cadillac and President Madison Hotels.
From Florida, he was sent to Lockbourne Army Air Base at Columbus, Ohio. He spent about three months here with the 2114th AAF Base Unit. Wood was honorably discharged from the service on October 31, 1945, from Patterson Field, Columbus, Ohio.
While attending college at Ohio University in Athens, Ohio, Adam Wood enlisted in the U.S. Navy Reserves on October 11, 1946. He performed no active duty during his enlistment and received an honorable discharge on July 18, 1947.
After The Military - While home on a furlough, Wood met Elnora Gallion of Flatwoods, Kentucky. She worked at a pharmacy in Ironton, Ohio. They married in 1946 in Nicholasville, Kentucky, then moved to Athens, Ohio, so Adam could continue his education. He completed his Master's Degree at Ohio University and accepted a teaching position in Bedford Heights, near Cleveland, Ohio. After a few years, Adam and Elnora moved to Jackson, Ohio. Adam taught at Lick Local School and later served as principal at Milton Elementary.
His final position was principal at Central Elementary in Wellston, Ohio. He retired in 1979 after spending more than 37 years in the education field.
The Four Boys - Adam and Elnora Wood have four sons. Three of them served in the military.
Philip Patrick Wood was born October 13, 1946. He served as an MP in the U.S. Air Force and is married to Mary Anne (Boylan). They reside in Columbus, Ohio, and have one son, Christopher Michael Wood.
Michael Eugene Wood was born December 26, 1947. He served as a teletype writer repairman in the U.S. Army and is a retired school teacher. Michael is married to Mabel Linda (Lyons). They live in Wellston, Ohio, and have one son, Joseph Michael Wood.
Mark Anthony Wood was born November 13, 1958. He served in the U.S. Army as a photojournalist and is an entertainer. Mark is married to Deanna Cheryl (Cline). They reside near Jackson, Ohio, and have one son, Clay Emerson Wood.
Bryan Augustus Wood was born March 2, 1963. He works as a product development coordinator and is married to Barbara Jaclyn (Shackleford). They have two children, Andrew Bryan Wood and Cathryn Elaina Wood. They reside in Ft. Thomas, Kentucky.
The Crew Of The Termite Chaser #1
B-24 Liberator #42-52141
450th Bomb Group (Cottontails), 722nd Squadron (Holy Joe)
Pictured in the front row, from the left, are: Sgt. Donald G. Hines - Crew Chief; Sgt. Walter J. Kostro - Gunner; Sgt. John P. Connor - Radio Operator; Sgt. Charles R. Warren - Radio Operator; Sgt. Francis C. Geiser - Engineer; Sgt. Baltizai C. Balazic - Assistant Radio Operator; Sgt. Glen K. Platt - Gunner. Back row, from the left: Lt. Marion D. Medley - Co-Pilot; W. J. Hodges - Navigator; Lt. William H. Glavin - Bombardier; Lt. Walter J. Sharff - Pilot.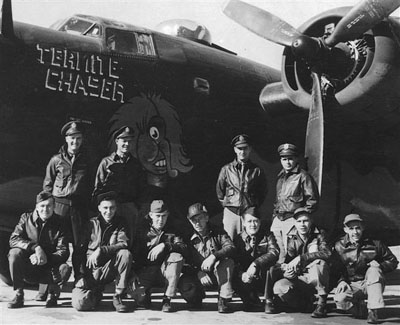 The Termite Chaser #1 Crew Notes
According to special orders (classified Secret) from Alamogordo, NM, SSgt. Adam Wood was assigned to the B-24, #42-52141 (Termite Chaser #1). The roster of flight echelon records show his plane flew from Alamogordo to Herington, Kansas on November 23, 1943. The 450th BG website indicates the plane was put into service December 3, 1943 and ditched April 7, 1944.
However, SSgt. Adam E. Wood, SSgt. Roy M. Gaertig and Sgt. Michael F. Garby of the original crew are not pictured in the crew photograph, supplied by Sgt. Donald Hines. Hines, Crew Chief of The Termite Chaser #1, currently resides in Las Vegas, NV, is the past president of the 450th Bomb Group Association.
SSgt. Roy M. Gaertig died March 11, 1944. He is buried in the Tablets of the Missing at Rhone American Cemetery in Draguignan, France, and was listed as Missing in Action or Buried at Sea.
Walter Sharff of Slidell, LA, son of the pilot, said in a telephone conversation in May of 2003, that his father had survived the war and thought that he ditched his plane in the English Channel.
Original Crew Of The "Gallopin' Ghost"
B-24 Liberator #42-7714
450th Bomb Group (Cottontails), 722nd Squadron (Holy Joe)
The original crew of the "Gallopin' Ghost" included, front row, from the left: SSgt. James Zocco - Assistant Crew Chief; SSgt. Paul R. Drury - Radio Operator; SSgt. Vito A. Berardi - Nose Turret Gunner; SSgt Andrew A. Anzo - Right Waist Gunner; SSgt. George E. Shatzer - Ball Turret Gunner; SSgt. August L. Musich - Top Turret Gunner; SSgt. Louis D. Springer - Tail Gunner; SSgt. Glen Hovey - Crew Chief. Back row: 2nd Lt. Charles Coyle - Navigator; 2nd Lt. William J. Brohm, III - Bombardier; F/O Walter P. van der Kamp - Pilot; 2nd Lt. Phillip Kraus - Co-Pilot.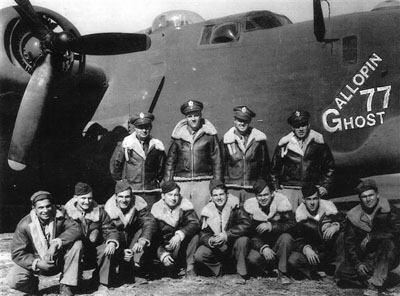 "Gallopin' Ghost" Crew Notes -
Andrew Anzo was normally the right waist gunner on the "Gallopin' Ghost" plane, but he was injured on a flight prior to Feb. 22, 1944. Anzo had been hospitalized for frostbite of his face due to the 60 degrees below zero temperature. Because of this injury, the crew was one man short on February 22nd. SSgt. Adam E. Wood filled Anzo's position that day. Adam received a letter from Anzo in the summer of 2003. He said he always wondered what happened to the man who took his place the day the plane was shot down. Anzo lives in Mexico City, Mexico.
Paul Drury was trained as a radio operator but was in the left waist gunner position on Feb. 22nd. Drury thinks the plane might have been hit by a rocket or a 20 mm cannon, igniting the oxygen supply tanks. Drury also said that co-pilot Phillip Kraus told him that the plane exploded and he was blown out of the plane. Paul Drury and his wife, Louise, reside in Barefoot Bay, Florida.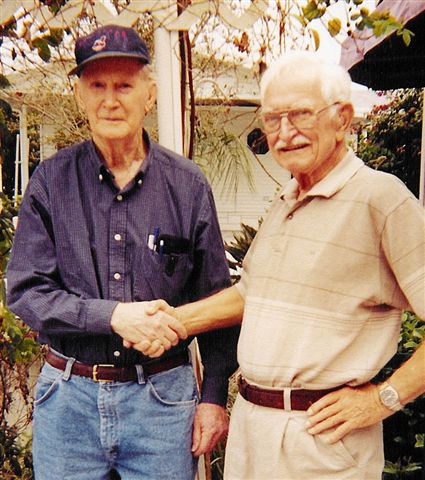 Adam Wood (left) and Paul Drury meet in Florida on March 8, 2003.
They reminisced about the day they were shot down on the B-24 "Gallopin' Ghost"
James Zocco, assistant crew chief for the "Gallopin' Ghost," was the person who prepared the plane for its flight on Feb. 22, 1944. Zocco said the "Gallopin' Ghost" was named after the famous football player Harold (Red) Grange. Grange's nickname was the "Galloping Ghost" and his jersey number was the same as the first two numbers of the plane's tail number - 77. In Zocco's diary on Feb. 22nd, he wrote"...the plane never came back. Lost in action. I'll never forget it. Hovey cried." James Zocco resides in Windsor Locks, CT.
Pilot Walter van der Kamp had a son, Martin, who was born while the crew was training in New Mexico. Flight Officer van der Kamp wasn't allowed to see his wife or son before being sent overseas to Italy. The son, Martin van der Kamp, lives in Santa Rose, California and has been corresponding with crew members Paul Drury and James Zocco, trying to find out more about his father and the missions he flew.
Co-pilot Phillip Kraus, the third person to survive the Feb. 22nd event, was badly burned in the plane explosion and was sent back to the United States by the Germans. He was last living in Dallas, Texas. Attempts made to reach Kraus have been unsuccessful.
Second Lt. William Brohm III, SSgt. August Musich and 2nd Lt. Charles Coyle are buried in the Ardennes American Cemetery in Neupre, Belgium.
Credits
I would like to thank the following for their help in researching this report:
Paul R. Drury, Gallopin' Ghost waist gunner, Barefoot Bay, Florida.
James A. Zocco, assistant crew chief of Gallopin' Ghost, photos of crew, Windsor Locks, CT,
Martin van der Kamp, son of Gallopin' Ghost pilot F/O Walter P. van der Kamp, Santa Rosa, CA
Donald G. Hines, crew chief of The Termite Chaser #1, photos of crew, Las Vegas, NV
Günther Wagner, WWII researcher, Kelheim, Germany,
Air Force History Support Office Reference and Analysis Branch, Missing Crew Report #2694,
450th Bomb Group Website, Crew Roster, POWs, S2 Reports,
450th BG and POW camps, ArmysAirforces.com
William J. Fili, B-24 bombing photograph on Feb. 22, 1944,