«
«
«




«
«
«
«
«




«
«
«
«
«




«
«
«
«
«
«
«
«
«
«
«
«
«
«
«
«
«
«
«




«
«




«
«

---
2nd Lt. Edward C. Loomis Crew
TWIN TAIL
723rd Squadron
---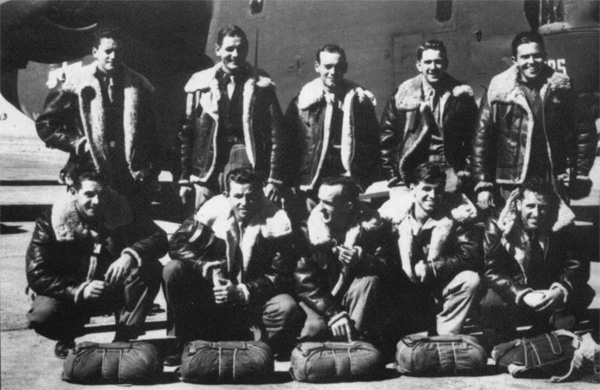 Photograph courtesy of Robert F. Long, 723rd Squadron and Turner Publishing Company


Standing Left to Right:
2nd Lt. Edward C. Loomis - Pilot
2nd Lt. Theodore R. Tautfest - Co-Pilot
John Vernon - Navigator
1st Lt. Robert F. Long - Bombardier
Leo Dombrowski - Engineer

Kneeling Left to Right:
Earl Ringland - Ball Turret Gunner
J.C. Ward - Gunner
Allen Byers - Ball Turret Gunner
John Florip - Gunner
James M. Fox - Radio Operator


TRIBUTE TO "TWIN TAILS" CREW
A poem by Norma Ward

We'll start with pilot Loomis, he's not very tall
But can guide his ship through ack-ack or squall.
The co-pilot Tautfest, with a grin on his face,
Is always on hand to help keep her in place.
Navigator Vernon navigates this ship,
When a mission requires them to make a long trip.
Bombardier Long yells, "BOMBS AWAY",
As they fly over Berlin just past break of day.
One look at Dombrowski and those Germans will turn,
Since he's a big guy and a jman they won't spurn.
Florip and Byers are fast gunners too,
Who pounce on the Germans with their guns blazing blue.
Their Irish radio man, Fox by name,
Is good, but this dialect brought most of his fame.
Tail-Gunner Ringland, in the tail of the ship,
Keeps his guns blazing throughout most of the trip.
Then there's "Belly" gunner Ward, I'd say gunner delux,
Who stays in there shooting as she jumps and bucks.
As you know he's my favorite and the man I adore,
Of these ten men on this big Liberator.
This is the B-24 "TWIN TAIL" crew,
Americans all and all true blue.
All have loved ones waiting them here,
But know the war must be won before coming home to cheer.
They'll help win this fight for you and for me,
To keep our America, AMERICAN, AND THE LAND OF THE FREE.