The listing of the men in the picture is the group that loaded bombs for the planes of the 720th Squadron, bombs delivered to each plane by Bill Correia's Ordinance men. Not infrequently after the difficult job of loading heavy bombs, usually in the dark of night and perhaps with disagreeable even cold weather, orders would arrive – change the bomb load! Usually unloading was accomplished by simply dropping the bombs (hoping none might explode), than ordinance would then remove and replace them with the different bombs and the job of loading would resume for the plane destined to attack the enemy.
But the tired men, now probably late at night, had other responsibilities – to make certain the four turrets were operating properly and the ten 50-caliber machine guns were clean, ready for action and with an adequate supply of ammunition.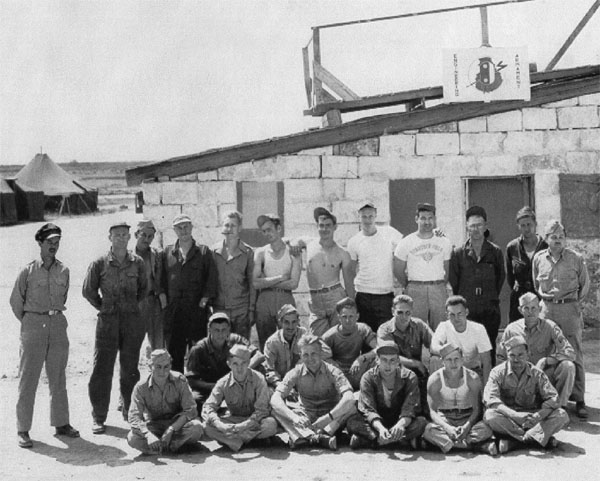 Left to right, back row: George Ready, Joe Critcher, Norm Fenske, Francis Buffum, Bob Collinson, Charlie Jones, Bill Jelly, Doug Bernard, Frank Ayers, Ralph Mason and Harley Rhodehamel.
Next row – Ed Chomer, Clarence Johanknecht, Bill Sanders, Vern Bucher, Harry Carr, Woodrow Alldrege.
Front Row – Gerard Bland, Earnest Brewer, Fred Buchman, Don Vaile, Don Brown, Vin Stretch.
While the armament group was performing its many tasks to prepare the planes for combat, the engineering group likewise was hard at work preparing the engines and controls while Bruce Selby's Nordon bombsights experts were installing carefully checked bombsights. Then too someone was making certain there was sufficient gasoline for the difficult and distant mission deep in enemy territory.
The group is standing in front of the engineering and armament offices where records were maintained, schedules outlined and equipped with a phone connection as well as a look out station. Note the insignia of the 720th. The nearby tents offered an area for cleaning guns and other equipment and in the cold of Italian winters it was heated, sort of. The office and tents were located near the runway.
Even after the passing of times names of a few of the missing armament team flashes back in memory: Norman Huber, Julius Clark (not armament but ordinance) Jim Strickland, Jean Arcard, Mario Alfonso, Marquis Cedeno.
The 720th's armament group was hard working and dedicated to its difficult tasks. If by chance I've entered an incorrect name I apologize but then one must remember that memory may get a bit fuzzy after 58 years!
*** I thought the enclosed picture with names might be of interest in the archives of our great group. This picture was taken in the summer of 1944 near Sunny Manduria, Italy, Air Force base #28.