«
«
«
«




«
«
«
«




«
«
«
«
«




«
«
«
«
«
«
«
«
«
«
«
«
«
«
«
«
«
«
«




«
«




«
«

---
T/Sgt. Charles B. Black
720th Squadron
---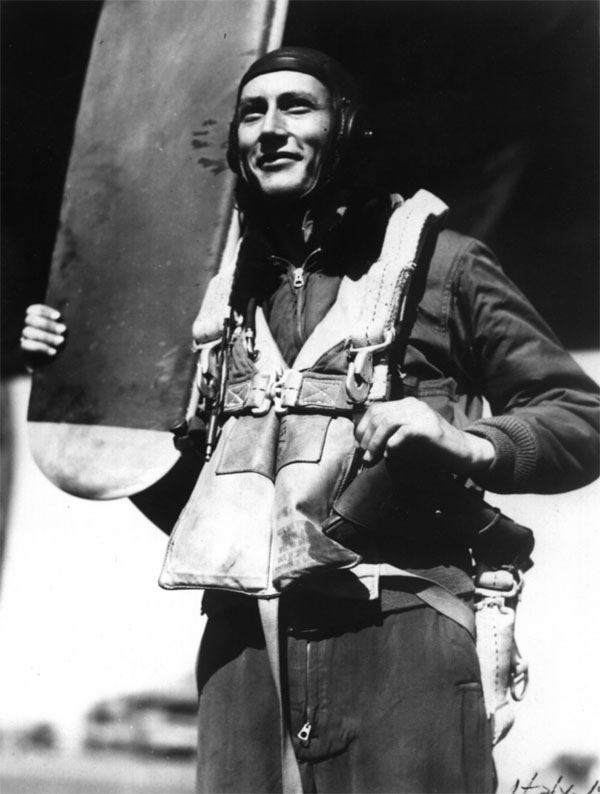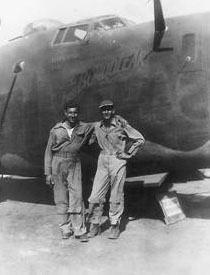 Pictured here with Sgt. John A. DeCamillo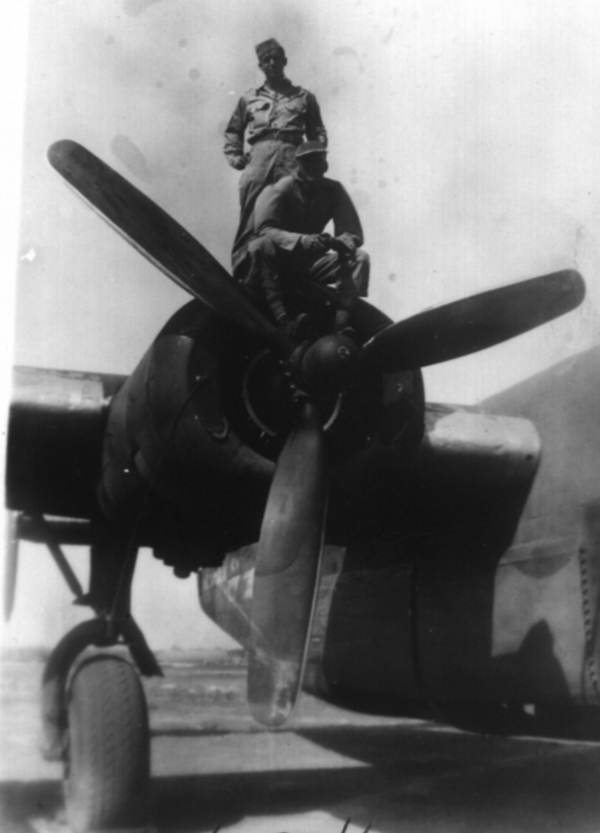 Pictured here with S/Sgt. William C. Dudley atop the #3 engine of Destiny Deb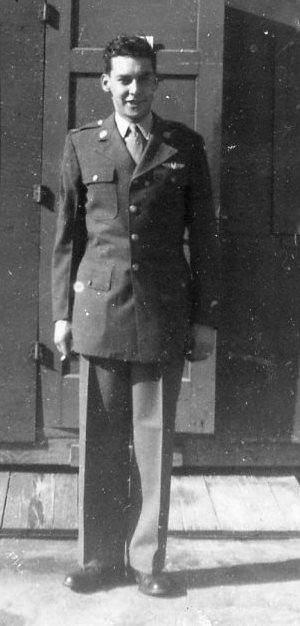 Neil F. Coulter



I was born 12-1-22 in Milton, Tenn. I grew up in middle Tennesse and was inducted into the army at Ft. Oglethorpe, Ga. on I-8-43 where I was assigned to the Army Air Force and sent to Miami Beach, Fl. for basic training and classification as well as physical and numerous shots.
After 16 days I was shipped out to Laredo,Tx airfield for aerial gunnery training. Then to Keesler Field, Ms. for b-24 mechanics training, which lasted 9 months. Then on to Salt Lake City Air Field Where we were to be assigned to flight crews.
There were so many airmen there that we were given a 2 weeks furlough and I headed to Tennessee. After the furlough we found out who we were going to be flying with.
Our original crew consisted of Lt. John Ebert ( Iowa) pilot, Lt. Victor K. Todd (Conn) co-pilot, a 1st Lt navigator Inst. we didn't get along with and was replaced with Lt Julius(Nate) Nathanson(N.Y.City) , Lt. Louis Lessard (Mich.) bombardier, Sgt. Eugene Avery (Conn) radio operator,waist gunner, Sgt Charles Black( Tenn) flight eng.,top turret, Sgt. John Dicamillo(N.Y.City) assist. eng. waist gunner,Sgt. Melvin Cummings, (Cal.) ball turret. Melvin was later gounded and replaced by Sgt Horace (Dutch) Holland (Mich.) armorer, Sgt. Crawford Dudley (GA) armorer, tail gunner, and Neil Coulter (Mich) armorer, Nose gunner.
A great crew this turned out to be. We all shipped out to Pocatello Air Base to start transition flight training in mid Nov. '43 and started flying. The weather was terrible and we would get in the air and they started calling us back in because the clouds were closing in.
After spending Thanksgiving at Pocatello the whole group loaded into the b-24 training planes and we headed for Muroc Army Air Field ( now Edwards Air Force Base)in the Mojave Desert, where we started intensive training for combat.There was a feeling of urgency, for flight crews were badly needed in combat because of heavy losses.
We became a very close knit crew and great friends in the process.
After completing transition training we boarded a train for Hamilton Field, near San Francisco, where we were assigned a brand new b-24 G that we named Destiny Deb and put up $4.00 apiece to get the nose art painted on.
What a delight to be able to fly on a new plane after the beat up trainers.
We slow timed the Deb and became acquainted with her. We loved her. She was shot down at Ploesti with another crew flying on her, they all got out .
Vearvil, I believe was pilot and John Schlapak and Bill Fili crew members that I know of.
We then headed out for combat but knew not where. With stops at Phoenix,AZ, Midland,TX, Memphis,TN( I wanted to stop at Nashville for that's where I had worked for American Airlines) but we had to stop where we were scheduled but had an unscheduled stop the next day at Atlanta because of bad weather. Then to West Palm Beach, Fl. where we wouuld start our over water flight.
We flew to Trinidad, Belem, Brazil and Fortalesa, Brazil. We did a 25 hr inspection at Fortalesa and bought silk hose for our women back home.
I also bought a beautiful pair of goatskin lined boots which I still have. We all chipped in and bought a spider monkey.The monkey got too cold in Africa and expired.
We departed Fortalesa for Dakar, W. Africa late in the day and flew all night so we would arrive at Dakar in daylight. It was a 2100 mile flight and I was concerned that fuel would be a problem. We flew through a storm that added to my worry about fuel. Nate navigated us in to Dakar straight in and we landed on the steel mat there with about 250 gallons of gas remaining. When we landed on the steel mat runway it made so much noise I thought we had forgotten to lower the landing gear. This was our first expperience with a steel mat.
On to Marrakech and to Tunis, Tunisia Where we would find out our destination. We had expected the India-Burma theater but were assigned to the 450th B.G. of the 15th AF near Manduria, Italy.Recently taken over from Germany.
When we arrived at Manduria we were told to circle the field because a mission was returning and they had priority landing. We watched, with interest, as they landed. Many planes shot off red-red flares which we took to be celebration for a safe return. When we landed we found this was not the case. Those planes had wounded or dead on board and were pulled off at the end of the runway where ambulances waited.
What an introduction to combat.
We were met by a truck that hauled us, and our gear, to the 720th Squadron area that was to be our squadron. They put us in the day room for the night informing us there was supposed to be another rough mission the next day and we would get cots in the barracks which proved to be true. A night on the floor of the day room wasn't bad. Laying awake in the dark gave us time to dwell on our fate. It looked pretty gloomy.
When we entered the barracks the guys welcomed us by admiring our boots etc. and telling us they would enjoy wearing them after we didn't come back.
Sadistic bastards, but they were only joking of course. We were a replacement crew and some of them had several missions already. They turned out to be our friends and fellow fliers. Frank Sandy, Modrowski, Fornberg, Schoenberger, Carl Moen and Fred Barlow were some of the men that I recall.
We all had a cigar box, or such, that we kept our treasures that were supposed to go to our families if we failed to return from a mission. All else was fair game that belonged to whoever got there first.
On one mission, we had to land at Corsica from a mission to Toulon,France, and were a couple of hours late returning. When I sat down on my cot I noticed my boots were gone.
I stood up and said some SOB has stollen my boots. Schoenberger , with a sheepish look on his face, walked up, carrying my boots and told me that I had told him he could have them if I failed to return and he didn't want someone else to beat him to them and that he was going to return them when I went to the mess hall.
That mess hall was properly labeled for it was a mess. Most of the cooks had no training and sure had a hard time with the food. We ate spam, spam, spam, corned beef, corned beef, corned beef, The same with fruit cocktail, pineapple and dehydrated potatoes that would have been great wall paper paste,ugh. K-rations were the meal of choice. Coffee was made in a 30 gallon zinc garbage can and tasted it. We had water buffalo steak one time and you couldn't cut with an ax it was so tough.
Anyway, after a bunch of practice missions we flew our first mission to Wiener-Neustadt to a ME-109 factory. It was the highest mission I ever flew,25,600 ft.The flak guns opened up way below us where we would fly all the rest of my missions, 21,000 to 22,000ft. Fighters attacked and the flak started getting to us. I knew this was going to be a dangerous war for me and I later decided it was going to be deadly.
I went to Ploesti 5 times and we turned back another time because Lt. Ebert said we couldn't maintain altitude and keep up. I questioned this for our manifold pressure was good and the engines were running smoothly. This was to be Lt Ebert's last mission, as we turned back before takeoff and returned to our hardstand, on our next mission. Lt Ebert was a fine pilot but the terrble missions got to him. Anyway, the plane that pulled up into our position, in the formation, blew up and no one got out. Who says providence doesn't guide our fate.
Lt Lessard stopped flying at the same time that Lt. Ebert did.
Ploesti was a bugger, but Munich, Wiener-Neustadt, Brasov, Bucarest and the milk run to Orbotello( which wasnt so) were mean missions also.
In my oppinion, though, the roughest of them all was the mission to the V-1 factory at Fredrickshaven, Germany, right across Lake Constance from Switzerland.
Our bomb run was right down the middle of the lake for we were warned to stay out of Swiss air space, since they were supposed to be neutral(sic).
As we turned on to the IP and straightened out for the bombing, all hell broke loose. There was a terrible explosion right under the bomb bay. We kept the hatch into the bomb bay open during the bomb run and I could see the bombs going from the top turret. I always felt that flak exploded one of the 500 lb. bombs as it dropped out of the bomb bay but it could have been a near direct hit from a burst of flak. Nevertheless, I knew we were in deep manure, for the odor of gasoline was stiffling and I expected the plane to explode.
I dropped out of the turret and into the bomb bay. The doors had just closed so I opened them again and saw the planes following us parting and giving us room to bail out.I saw where the gasoline was pouring from the crossfeed line and put both hands over the hole until it could seal. Real deep manure here. Major Caywood was flying with us since we were leading the 47th wing and in turn the whole 15th Air Force.
I reported my findings to him and Todd and picked up a walk around oxygen bottle, for we were still at very high altitude, and returned to the bomb bay.. Then I saw the hydraulics in nasty shape and made an attempt to save some of them. Neil Coulter came back to give me a hand. I thought at least maybe we could go into Switzerland and be interned for the duration.
Returning to the cockpit I saw that #3 engine was going and had to be feathered. Deep,deep, deep manure. #4 was spitting vapor but was running good. Intake manifold penetrated.
Maj. Caywood asked me if we could continue to lead the mission or have to evacuate the plane. I told him that if #4 engine kept going we could make it. When I checked the back of the plane, I expected to see a bunch of wounded men but there was not one drop of blood and even though they had a shower of gasoline they were ok. More Providence.
Since we were leading everything, we could keep the engines set at a constant speed and lead the air force back to Italy and didn't have to land prematurely.This was my 48th mission and by far, the most harrowing. I did have to crank down the landing gear and shove the nose gear out.
As far as I'm concerned, there's no such thing as a milk run. for if a German fighter attacks or one barrage of flak comes up someone is going to not take any milk home that night.
We were flying off Col. Bill Snaith's wing, over Ploesti, when he got a direct hit in the bomb bay. His wings folded back and he blew into a million pieces. 13 people were on board, 3 observers from wing. I was looking right at them and saw no one bail out. Bill Snaith was blown out of the plane and had his hair burned off. He said later that he came to under the debris of the plane and thought he would be killed. He pulled his ripcord and the chute pulled him back and he landed safely and was a prisoner at Ploesti and freed when the Roumanians capitulated and b-17's were flown in and rescued the prisoners.He died in Oct 2002.

A little bit of humor is in order here.
After each mission we were given 2 ounces of whiskey to help us settle down. We had to sign for this and we knew the guys that didn't drink so we would get them to sign for it and add it to our supply. We didn't drink it right away but saved it until we had enough for a buzz. One night Crawford and I decided to drink ours and when it was gone we decided we needed more. I knew where Neil kept his so I climbed up and got his bottle out of his musette bag. We poured out a nice amount and put water in it to bring it up to the right level. Neil came in and saw we were feeling no pain and right away thought the worst of us. He checked his bottle and told us it was lucky for us that we hadn't been into his booze. When we had our reunion at Dayton in 1986 I told Neil that I had been living with something all these years and just couldn't live with it anymore. So I told him what Crawford and I did. He said. I thought so you sorry SOB's.
We lost Avery when we flew split up on a mission to fill in where crew members were injured or dead. He bailed out and was a prisoner. Jack Noe took his place , as he had been replaced on his crew after having surgery. He was a good one. Also, Merdy Cherry relaced Lessard another good one. He got the only purple heart on our crew when flak went through his bomb sight and barely penetrated above his eyebrow. Didn't miss a mission.
I received a few awards but felt others on the crew deserved them, too. It was a life threatening experience and I had the pleasure of flying with Some of the bravest men that ever walked God's green earth. After Todd checked out as our pilot, yes ,and even before, I knew he was fearless. Nothing seemed to bother him. When flak came in his window and plexiglass showered him, no worry. Crawford in the tail turret and Neil in the nose had to have the right stuff to face those fighters that tried to get them. Crawford is still with us as is John Dicamillo. I don't know about Merdy Cherry or Walt Kmen, who took Todd's copilot job. He was a good one, too.Todd stayed with an F-86 when it flamed out on take off at Wright-Patterson.in May 1954 He could have ejected but chose to guide it away from homes in the area. I Knew he would do that Neil died severl years ago and Dutch stayed in the service and died a month after retiring.
I don't know about Jack Noe but stopped hearing from him several years ago, don't know about Nate, Ebert ,Lessard, Avery or Cummings.
We were fotunate to fly with Lts. Radue and Oney while Todd was checking out as our pilot. God has been good to me and given me a happy life.
I married the granddaughter of the Dr. who delivered me when I was born. We will be married 57 years in December with one daughter, one granddaughter, and 4 great grandsons.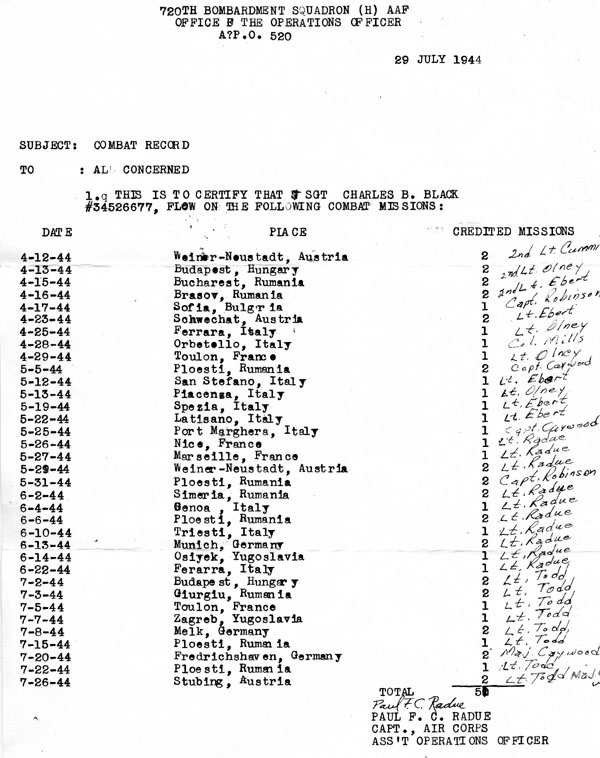 ---


Information provided by T/Sgt. Charles Black

Link To Crew Pictures

Link To Obituary Notice