«
«
«




«
«
«
«




«
«
«
«
«
«




«
«
«
«
«
«
«
«
«
«
«
«
«
«
«
«
«
«
«
«
«




«
«




«
«

---
Earl B. Nall
722nd Squadron
---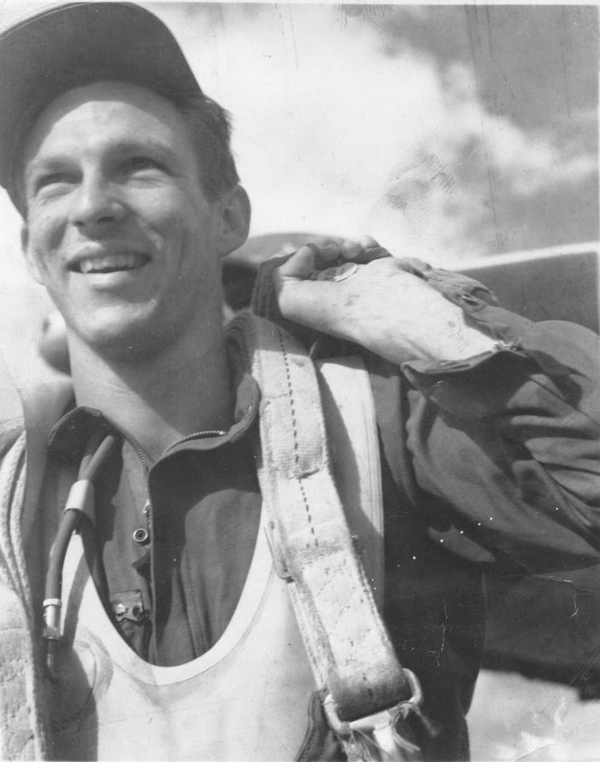 Earl B. Nall. was with the 722 squadron.
His was the third crew to fly Booby Trap #52.
His missions started 6/5/44 and ended 10/13/44. He actually flew 39 missions 11 0f them counted double.(see below)
My dad left the army and went to school and became a high school principal in Tennessee and Florida until his retirement.
He them moved back to Tennessee with his wife and died in 1992.
He had three children.
---
Missions flown by Earl B. Nall
722nd Squadron
| | | | | |
| --- | --- | --- | --- | --- |
| Mission # | Date | Location | Target | Plane |
| 1 | 06/05/1944 | Castel Maggiore, Italy | RR | 332 |
| 2/3 | 06/06/1944 | Ploiesti | Romano-Americano, Oil Refinery | 710 |
| 4/5 | 06/09/1944 | Oberpfaffenhofen A/D, Munich | Research Site | 710 |
| 6 | 06/10/1944 | Triesti, Italy | Oil Refinery | 332 |
| 7 | 06/11/1944 | Constanta, Roumania | Oil Storage (abort) | 332 |
| 8/9 | 06/13/1944 | Munich, Germany | Allach Motor Works | 332 |
| 10/11 | 06/16/1944 | Bratislava, CZ | Oil Refinery | 282 |
| 12 | 06/22/1944 | Ferrara, Itlay | RR Yard | 260 |
| 13 | 06/25/1944 | Toulon, France | Submarine Pens | 152 |
| 14/15 | 06/26/1944 | Schinechat, Aus | Aircraft Plant | 710 |
| 16 | 06/30/1944 | Zagreb, Yugo | Airdrome | 332 |
| 17/18 | 07/02/1944 | Budapest, Hungary | Veces Airdrome | 177 |
| 19/20 | 07/03/1944 | Giurgio, Roumania | Oil Storage | 332 |
| 21 | 07/05/1944 | Toulon, France | Submarine Pens | 332 |
| 22 | 07/07/1944 | Zagreb, Yugo | RR Yard | 894 |
| 23/24 | 07/17/1944 | Ploiesti | Vega Oil Refinery | 927 |
| 25 | 07/12/1944 | Cannes, France | Phesule Viaduct | 332 |
| 26 | 07/21/1944 | Styar, Austria | Airfield | 332 |
| 27 | 07/22/1944 | Ploiesti | Romano-Americano, Oil Refinery | 332 |
| 28 | 07/27/1944 | Budapest, Hungary | Manfred Armament Works | 441 |
| 29 | 07/31/1944 | Targouiste Polesti | Oil Storage | 332 |
| 30 | 08/09/1944 | Budapest | Vecses Airdrome | 293 |
| 31 | 08/12/1944 | Marsielle, France | Gun positions | 332 |
| 32 | 08/??/1944 | Toulon, France | Gun positions | 332 |
| 33 | 08/??/1944 | Sauonna, France | Gun positions | 332 |
| 34 | 08/17/1944 | Ploiesti | Oil Refinery | 927 |
| 35 | 08/20/1944 | Szolnok, Yugo | RR yard | 332 |
| 36/37 | 08/23/1944 | Vienna, Austria | Oil Refinery | 458 |
| 38 | 08/24/1944 | Vinkouci, Yugo | RR yard | 332 |
| 39 | 08/26/1944 | Giurgiu, Roumania | Ferry | 332 |
| 40 | 08/29/1944 | Ferrara, Italy | RR Bridge | 458 |
| 41 | 09/05/1944 | Ferrara, Italy | RR Bridge | 458 |
| 42/43 | 09/10/1944 | Vienna, Austria | S. Vienna Armament Works | 519 |
| 44 | 09/13/1944 | Northern Italy | RR Bridge, Ora River | 332 |
| 45 | 09/21/1944 | Yugo | RR Bridge, Nova Sad | 928 |
| 46 | 09/24/1944 | Athens, Gr | Kalamaki Airdrome | 285 |
| 47/48 | 10/07/1944 | Vienna | Winterhfen Oil Storage | 285 |
| 49 | 10/11/1944 | Vienna | Oil Storage | 285 |
| 50 | 10/13/1944 | Banhida, Hungary (Friday 13th) | RR Yard | 285 |


Photograph and information provided by son of Earl B. Nall, 722nd Squadron

Link To Crew Information