«
«
«




«
«
«
«




«
«
«
«
«
«




«
«
«
«
«
«
«
«
«
«
«
«
«
«
«
«
«
«
«
«




«
«




«
«

---
William Donald Crew
722nd Squadron
---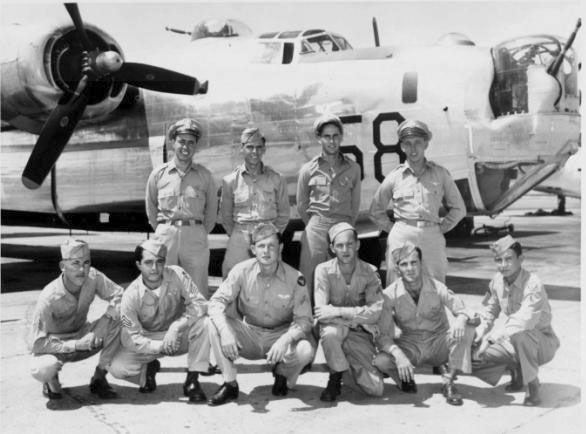 Rear L. to R.
Stuart J Lefkowits - Navigator
Allen J. Smith - Copilot
William A Donald - Pilot
Everett A. G. Lorenz - Bombardier

Front L. to R.
John R. Walling - Engineer
Angelo Marino - Radio operator
Cleo H. West - Nose turret gunner
Ernest Balint - Ball Turret
Vernon T. Miller - Tail Gunner
Robert J. Lick - Waist Gunner

This picture was taken in the summer 1944, Davis Monthan Field in Tucson during the pre-overseas training together as a crew.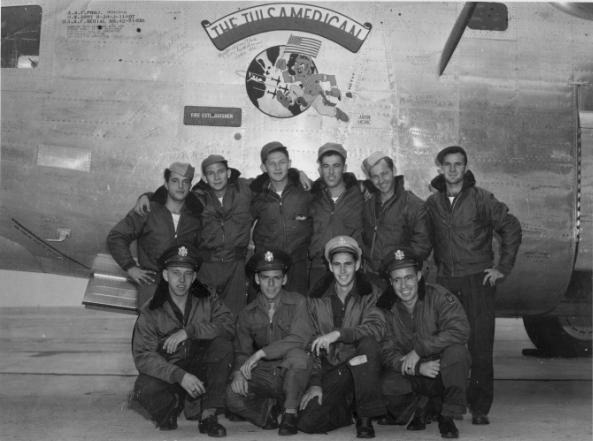 Rear L. to R.
Stuart J Lefkowits - Navigator
Angelo Marino
Robert Lick
Cleo West
John Walling
Ernest Balint
Vernon Miller

Front L. to R.
Everett Lorenz
Allen Smith
William Donald
Stuart Lefkowits

The William Donald crew in Topeka, Kansas, September 1944.
Here, the crew picked up Tulsamerican, the last liberator bomber built at the Douglas Air Force Plant, in Tulsa Oklahoma.
The Tulsamerican was considered a war bond plane. Anyone who bought a war bond was allowed to write their name and address on or in the plane.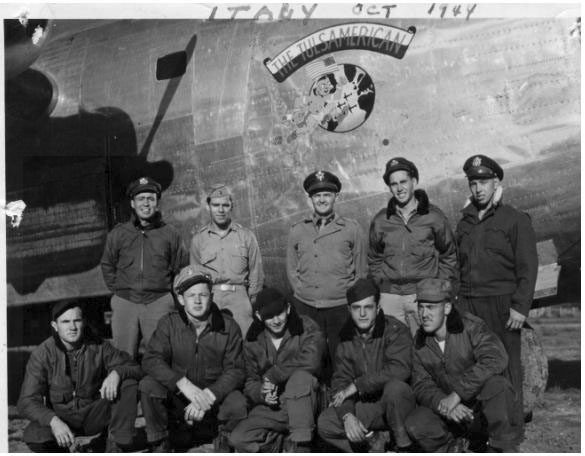 Rear L. to R.
Stuart J Lefkowits - Navigator
Stuart Lefkowits
Allen Smith
Colonel Scott
William Donald
Everett Lorenz

Front L. to R.
Vernon Miller
Cleo West
Robert Lick
Angelo Marino
John Walling

After leaving Topeka, the William Donald crew flew the Tulsamerican to New Hampshire, to New Foundland, to Azore Island, to Marrakech, North Africa, to Tunis and finally to Goia, Italy.
The picture above was taken with the commanding officer at Goia, Italy, Lieutenant Colonel Scott of Tulsa, Oklahoma.



Above Pictures and Information provided by Stuart J Lefkowits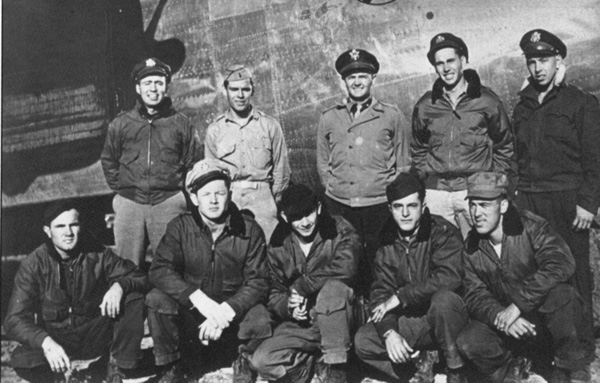 Rear L. to R.
Lefkowits
Smith
Col. Scott. Base Commander, Fogia Airfield
Donald
Lorenz

Front L. to R.
Miller
West
Lick
Marino
Walling
Missing is Ernest Balint

This picture was taken the day she arrived at Gioia del Colle airfield at the request of Col. Scott who was from Tulsa



Photograph courtesy of Vernon Miller, 722nd Squadron and Turner Publishing Company