«
«
«




«
«
«
«




«
«
«
«
«
«




«
«
«
«
«
«
«
«
«
«
«
«
«
«
«
«
«
«
«
«




«
«




«
«

---
Gerald Weathermon Crew
722nd Squadron
---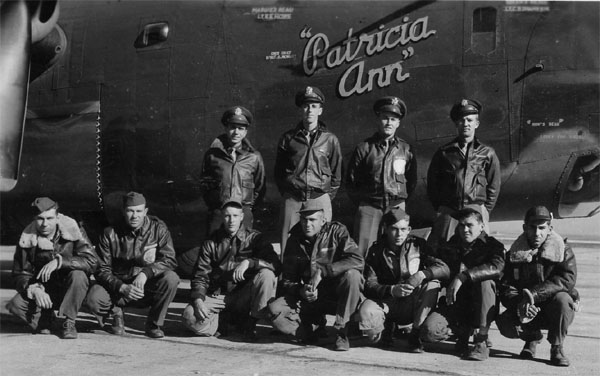 Photograph courtesy of Courtney Shanken

Standing (L to R):
2nd Lt. Courtney D. Shanken - Navigator
2nd Lt. Louis Siegel - Bombardier
2nd Lt. Ross E. Howe - Co-Pilot
F/O Gerald E. Weathermon - Pilot

Kneeling (L to R):
S/Sgt. Joseph T. Atteberry - Tail Gunner
T/Sgt. Anthony J. Vola - Radio Operator
S/Sgt. Charles R. White - Engineer
S/Sgt. Gerald P. Meritt - Top Turret
S/Sgt. Ray E. Ault - Waist Gunner
S/Sgt. Woodrow W. Tateman - Nose Gunner
S/Sgt. Harold J. Saperstein - Ball Turret

The crew is pictured here in New Mexico, 1943.
Patricia Ann was named for the Pilot's wife.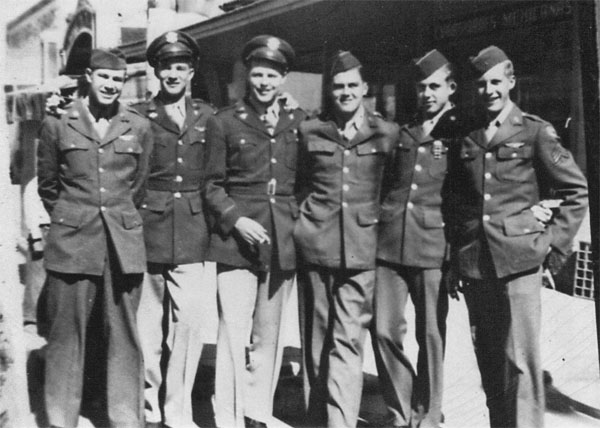 Photograph courtesy of Charles White

Anthony Vola - Radio
Gerald Weathermon - Pilot
Charles Lehman - Bombardier
Woodrow Tateman - Engineer
Ray Ault - Gunner
Charles White - 2nd Engineer

Taken at bridge between Juraz, Mexico and El Paso, Texas
November 1943


Link To MACR 3958