«
«
«




«
«
«
«




«
«
«
«
«
«




«
«
«
«
«
«
«
«
«
«
«
«
«
«
«
«
«
«
«
«
«




«
«




«
«

---
---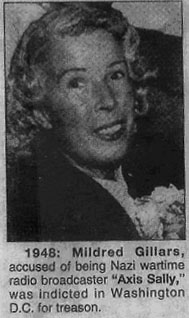 Axis Sally, affectionately called the Bitch of Berlin, held special interest for members of the 450th, particularly those of the flight crews. Her nightly broadcasts of hate and misinformation could be amusing but because of the 450th's leadership in a devastating raid the group gained special attention and recognition by Sally. The story is recounted in the History of the group published by Cottontails, Italy, May 1, 1945.

Early in combat the 450th earned the name by which it became known in the Mediterranean Theater and in the United States. The white rudders of the big tailed Liberators were spotted by the German Luftwaffe when the 450th led the devastating attack against the Prufening Aircraft Factory in Regensburg, Germany on 25 February 1944. Smarting under the blows of the 450th bombing, "Axis Sally," better known to the airmen as "The Berlin Bitch" came on the air that night with a threat and a warning to: "The White Tailed Liberators." On subsequent bombing over Germany, hundreds of ME-109's and FM-190's supported rocket firing JU-88's attacked aggressively, knocking down several 450th bombers. From Berlin came the gloating voice of Sally: "How did you like it, White Tailed Liberators?" From "white-tails" the obvious nickname of "Cottontails" developed in Disneyian fashion and under that battle name the 450th helped to change the mellifluous voice of Sally into a dying groan.

Axis Sally's true name was Mildred Gillars and she was born in Portland, Maine, in November, 1900. In Germany before the war, she fell in love with a German Foreign Service officer who persuaded her to make the broadcasts that were to be beamed to American forces. She would usually begin her show with: Hello gang. Throw down your little old guns and toddle on home. There's no getting the Germans down. And then she would report the evening news as concocted by German script writers, including, of course, the news especially directed to the 450th. Interestingly, enough factual information would be included to suggest a degree of reality.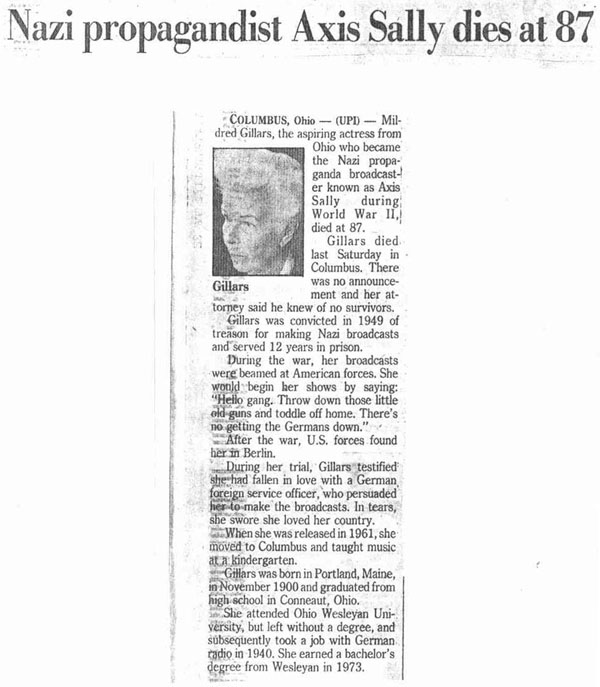 After the war U.S. forces found Sally in Berlin. In 1949 she was sentenced to 12 years in prison for treason. She was released in 1961 and taught music in a kindergarten. She died June 25, 1988, in Columbus, Ohio, with no survivors to mourn her death. But her treason assures her a place in history.





Information courtesy of Harley Rhodehamel, 720th Squadron