«
«
«




«
«
«
«
«
«




«
«
«
«
«




«
«
«
«
«
«
«
«
«
«
«
«
«
«
«
«
«
«
«




«
«




«
«

Click To Play Music

"We Remember"
by Dwayne O'Brien
---
Thomas Schoder
720th Squadron
---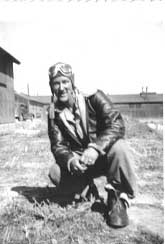 Mission 9 – October 16, 1944 – Target Tank Factories in Salbury Vienna, Austria – Escort 40 P38s and 15 P51s – Enemy Fighters not encountered – Flak HEAVY - Load 8 500lb bombs – Altitude 24,500 ft. – Temp –28C – Flying time 8 hr 15 min. – Mission accomplished! We were in range of 342 Flak Guns and hit about 25 times.  Two pieces came through my turret.   Two engines blown away but by miracle we made the island of Viz off of the Yugoslavian coast.  3 planes went down in target area, three more near Viz.  We were very fortunate to get back.  We were going to bail out but the Pilot brought her in on two engines.  We discovered a large piece of Flak in the tire – why it didn't blow no one knows.  We took off from Viz with a new plane.


Tom Schoder
1924 – 2005


God grant that I may fish until my dying day

And when it comes to my last cast;
I then most humbly pray-
When the Lord's safe landing net I'm peacefully asleep,
That in his mercy I'll be judged as
"BIG ENOUGH TO KEEP"



OBITUARY


Longtime Alaskan and Homer resident died Sunday, Apr. 24, 2005 surrounded by his family at his residence in Homer. He was 80.

A memorial mass will be 3:00 p.m. Wednesday at the St. John's Catholic Church in Homer. The family is planning to bury his ashes at Hickerson Cemetery in Homer.

Mr. Schoder was born Nov. 5, 1924 in Battle Creek, Michigan as one of six brothers. Raised in Michigan he was a graduate of St. Phillip High School and Michigan State in Forestry. He served his country honorably in the U.S. Army Air Force as B-24 crew during World War II.

After his discharge from the military, Tom worked as a U.S. National Park Ranger from 1949-57 in Yellowstone and Glacier NP. He worked for the U.S. Bureau of Outdoor Recreation until 1964, when he began working for the U.S. Bureau of Land Management until retirement in 1979. Tom moved his family to Alaska in 1971 and resided in Anchorage and Homer.

He was an active member of St. John the Baptist Catholic Church parish in Homer, where he often presided as a layperson. He received many commendations and awards for his military service and from the Bureau of Land Management, AARP and the Homer Senior Citizens Inc.

Tom loved fishing, being with his family, dogs and enjoyed only two types of pie: hot or cold.

"Tom was a man of indomitable goodness and great faith. He showed endless compassion for others, especially those less fortunate in the world. His rosy cheeks and big, sweet smile were a treasure to all. His life was a model of a life well-lived for his children, grandchildren and their spouses. He lived honestly, generously and with good humor. His courage and kindness will serve as a legacy. He was a devoted husband to Marilyn for more than 50 years, leaving behind a bountiful wellspring of love and a strong Schoder clan." his family said.

Mr. Schoder is survived by his wife, Marilyn Schoder of Homer; daughters and sons-in-law, Ruthe and Bill Schoder-Ehri of Homer, Annie and Kelly Drake of Austin, Texas, Mary and Jay Ver Hoef of Fairbanks; sons and daughters-in-law, Michael Schoder and Anne Ver Hoef of Anchorage and Tim and Kay Schoder of Makakilo, Hawaii; grandchildren, Gabriel Ehri and his wife, Bonnie of Philadelphia, Colin Schoder-Ehri of Bloomington, Ind., Lars Schoder-Ehri of Homer, Kelsey and Courtney Drake of Austin, Texas, Anastasia, Scyntha and Charlotte Schoder of Makakilo, Hawaii and Lander and Mariah Ver Hoef of Fairbanks; brothers, Merritt Schoder of Battle Creek, Mich. and John Schoder of Horse Shoe, N. Carolina.

Memorial donations may be sent in Tom's name to Hospice of Homer, P.O. Box 4174, Homer, AK 99603 or to a favorite charity. Those wishing to send flowers are asked to send perennial plants.