«
«
«




«
«
«
«
«




«
«
«
«
«




«
«
«
«
«
«
«
«
«
«
«
«
«
«
«
«
«
«
«




«
«




«
«

---
2nd Lt. Harmond M. Dessler Crew
722nd Squadron
---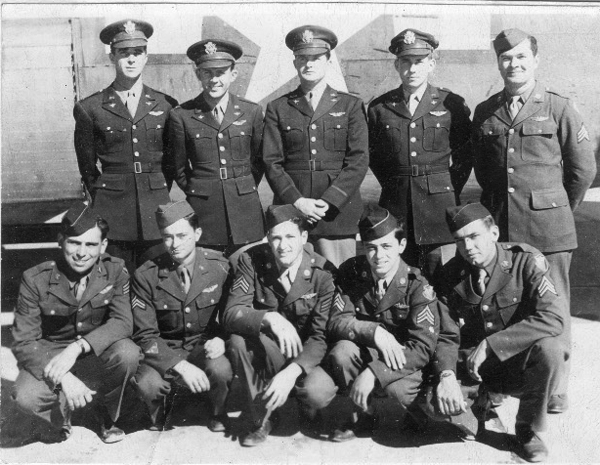 The crew flew Maiden USA ser.# 42-78180
Aircraft was lost on 25 April 1944

Photograph courtesy of William H. Harvey, 722nd Squadron


The nose art on this aircraft is a picture of movie starlet Leslie Brooks in a gown.
Pilot Dessler's mother worked for Senator Bankhead of Alabama who was the father of movie star Tallulah Bankhead, who was a friend of Dessler.
CREW

Back Row - Left to Right:


2nd Lt. Harmond M. Dessler - Pilot
2nd Lt. Wayne H. Sullivan - Co-Pilot
2nd Lt. William J. Kelly - Navigatror
2nd Lt. William H. Harvey - Bombardier
Sgt. Francis G. Miliauskas - Engineer

Front Row - Left to Right:


Sgt. Clifton L. Davidson - Radio Operator
Sgt. Vernon L. Coil - Gunner
Sgt. James H. Mays - Gunner
Sgt. Anthony Raffoni - Gunner
Sgt. Bruce P. Hanson - Gunner


MISSIONS

4/5/44 - Ploiesti
4/7/44 - Mestre
4/12/44 - Wiener - Newstadt
4/13/44 - Budapest
4/15/44 - Bucharest
4/16/44 - Brasov (Ploiesti)
4/17/44 - Sofia
4/20/44 - Treviso
4/21/44 - Ploiesti
4/23/44 - Wien
4/24/44 - Ploiesti
4/25/44 - Verese (Italy)
This was to be the final mission of Maiden USA and her crew.
They were shot down over North Arezzo, Italy by FW - 190's.


Link to MACR 4618